The Magic of Jocelyn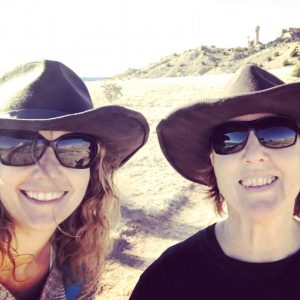 Jocelyn is my eldest niece. When she first proposed a visit to me in New Mexico I was in shock. Really? You want to visit with me? Spend your whole vacation out West with me? I hesitated, thrilled but also afraid to be happy. I couldn't quite believe she was reaching out to me and but also I wondered if I could spend so much time in anyone's company…Since my parents' deaths, I know opportunities may only happen once. A precious interchange, a smile, a hug, the half hour perched shoulder-to-shoulder on a stoop in the sun is sometimes the only time, the last time. "Don't it always seem to go that you don't know what you've got till it's gone."  Potentials may seem eternal but, in fact, are finite. Of course I said 'yes'. As it turned out that my sense of incapability was an unnecessary worry. Time with Jocelyn was a rare kind of magic.
Jocelyn had recently returned from teaching palliative care in Daka, Bangladesh. (She's been, for a decade or so, a nurse in the ER at Mass General Hospital in Boston and just completed her Nurse Practitioner degree.) She has traipsed through Kenya, ridden her bike across Spain in 118 degree heat. She likes to run in thin-soled sandals on slick rocky island shores in Maine. She's an adventurer. I texted her the suggested itinerary and a packing list. She texted back, "I can sleep anywhere, eat anything." I booked us room at the Sage Inn in Santa Fe—an easy landing spot as the airport shuttle will drop off travelers at the door. Two queen beds almost entirely filled our pleasant but small room. Neither of us glanced at the enormous black glass TV but instead piled backpacks, plastic bags with food, and water bottles on the sliver of bureau top in front. The first night we ate burritos at 'Maria's' in a festive, overly heated, convivial din followed it up with a good sleep.

To the Ranch
The next morning, we hopped into my Toyota Tundra pick-up and headed east on I25 out of Santa Fe county into San Miguel county where Glorietta Mesa gradually unkinks and tapers just as Starvation Peak juts up. Other wider land forms emerge including Apache Mesa. I was eager to show my niece Ravenrock, my temple in the desert. We snaked up the mesa switchback to the flat top, bounced across its rubbly shelf road to the property, chatting and laughing. I felt at ease. I felt we liked one another. It was easy going yet—as I later realized looking back, when we had grown quietly closer—this beginning had a touch of formality.
We settled into the Croft at Ravenrock, fired up the wood stove, sorted out bedding, savored beans and greens, then wandered out to view a new building project I've got going. Si and Will clamored on the rooftop of a camping cabin screwing down metal panels in gusty wind. Canyon de Aguilar stretched far out, dust storms muting color and detail on the canyon floor beneath a smooth blue firmament. Clutching our cowboy hats, Jocelyn and I inhaled the vast, thin, parched sky. So strange. I was standing in my dream place, a land I have grown to love more deeply than I thought I could feel for something so external, so geological, so mappable, with my niece, a tall slender, dark-haired woman who I had watched grow up in short snapshots. Jocelyn in chic black velvet at Christmas. At Thanksgiving with the whole family stripped down to summer bathing suits for a polar bear dip in Vineyard Sound. Late season sails with David, my brother, her father. I would bundle up in fat layers culled from my parents' hall closet, coats still 'perfectly good' but hopelessly unfashionable while Jocelyn turned up in sleek, serious high tech, cold weather gear. I doubted that it kept her warm enough, November ocean being an insistent chiller, but she assured me it was sufficient. She didn't turn blue, so it must have been true. I'm not sure why I recall her in outfits. Maybe they are visual bookmarks in my memory. I didn't see her much during her growing up so I have no little girl shots. However, my sense of her, no matter what age, is of rounded, warm presence. Now here we were on my land, already having had more conversation in 24 hours than we'd had in years, if ever. I wondered, as the day amicably elongated, if we would run out of words. We did run out of words, but in the best possible way. We read in companionable silence. Napped. Restful. Ravenrock inspires restfulness. That night, we each slept soundly, Jocelyn in a sleeping bag on the couch folded like a tilde.

Triassic
The next day we hiked around my north rim, stroking the rough, fat haunches of the grandmother rocks crusted with lichen. Soon enough, my niece was seeing fossils that even I, with weeks of intent and persistent peering, hadn't noticed—the waves of water, the clusters of oyster nursery beds. Her eyes, brought up on the Atlantic tides, had no trouble seeing an ancient ocean that had once covered what is now high desert. With a bit of research we learned that Apache Mesa is Triassic period, the twilight of the dinosaurs, where shallow lagoons lapped along beaches, trapping leaves and shells, the tracks and hollows of snails, and the imprints of water in sandstone and limestone sedimentary layers as it slowly receded. A world had slipped away, dissolving behind a time curtain, beyond touch except for a few clues, a few messages. I'm always wondering "why", "how', etc. Why is this shaped like this? What happened? How did they disappear? When was this? I love being with people just trying to figure it out, people who speculate before checking a reference, flexing their powers of observation, puzzling. It turns out my niece does this too. We shared plausible theories cobbled together from fragments of information we had each stashed in our brain shelves. Neither of us were deeply worried about correctness. No competition for who was more right. Rather we collaborated on making portraits of time immemorial. Myth for a Day. Pictures of Worlds. Periodically, if I have the luxury of being with experts and scientists who really know what can be known at this point in time, I update, making adjustments to my inner myths and pictures I live by. Right now, I am savoring the pictures my niece and I created together.

Ghost Ranch
We crossed the Sangre de Cristo mountains to Ghost Ranch which, as I had planned, blew her mind. You cannot experience Ghost Ranch without being wrenched beyond imagination. You cannot be blasé. A visit is a pilgrimage and we all bow down to its vastitude. (It is also, in my estimation, unlivable though Georgia O'Keefe managed it part time.) We hiked Chimney Rock trail close to sunset. Fatigued once I reached the mesa top, I nearly forfeited the great climax, but Jocelyn forged ahead then came back for me and said Really, you don't want to miss this! and she was right. We cleaved to a rocky prow pummeled by chill wind and faced Chimney Rock's massive yellow and rust flank. A vertical stone wall undulated sixty stories down to canyon floor where the late day drew inky shadows from beneath the skirts of juniper trees. Stunned, we laughed and exclaimed and laughed at our exclaiming.
Later, we scarfed down pork chops, cheesy potatoes, and green beans at the churchy, cafeteria-style refectory along with a few off-season travelers like ourselves and a hundred Highlands University students on career training to work for the Parks' services. A Presbyterian minister—the Presbyterians bought the ranch in the 1950's and have been custodial to its legacy—politely invited us to an ecumenical morning service to 'start the day out right.' We slept in a funky Bunkhouse with linoleum floors. When we finally turned onto the highway departing Ghost Ranch, the two transporting days might have been a month. Where had we been? A wild, dust-bitten, wind-whipped, sun-bleached Shangri-La.

Primordial
We ended in Santa Fe—Canyon Road, the Plaza, Jambo Cafe. I felt more at home with my niece than I have ever felt with anyone, yet there is no specific detail to share. Life was smooth, nonjudgmental, uncompetitive, comforting as a well-worn sweater yet fresh, new. I was not solitary. I was flowing in and out of my mind and her mind without feeling invaded or enmeshed. Thoughts and interchanges and quiet and being-ness were all banked with affection that was neither intense nor frail. I was in another realm and I was not alone. Usually I am alone in these other realms or, when with people, even the ones I love best, there is friction, or push and pull, saturation, or simply necessary disconnects.
Maybe it is with Jocelyn, who I trust, that I notice my heart opening fully to that which is human. As I did with my mother in her last winter at Attria Assisted Living, and in her final smile when I arrived at her dying. I loved completely and felt love coming to me. I knew then that I was loved. And I know now that I am loved. I have finally let it in, feel it flow in me. Meditation—that solitary endeavor—is where I have learned this savor. Before, love would force its way into me through a narrow aperture, flood me with such intensity I would have to slam down the barricade to catch my breath, to find my ground. Love was too intense. Communion too overwhelming. This time, and in these times, I am absorbing and flowing. I bask in a warm, primordial lagoon. Soft and stable. Though we can never predict anything for sure for always, I will always know for sure that for five days I was with my niece in the magic. In the magic with Jocelyn.
---

I am delighted that you are with me and appreciate your sharing these writings friends. Thank you!
My work and writing are sponsored by Dervish Society of America (DSA), a nonprofit 501-C3 organization dedicated to the Path of embodied mysticism. DSA provides opportunities for personal development, exploratory inquiry into embodied spirituality, and community connection through practice, service, and performance. DONATIONS are tax-deductible.