Performance Notes: Snowblind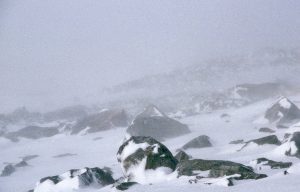 Many people have asked about my recent performance—my first post-surgery—in NYC on Anahid Sofian's "Atelier Orientale: Of Poets and Mystics", a mixed program of legendary dancers and musicians. It was the beginning of a new phase of work for me. Below are program notes, description, and the prologue story text.  
"You were so fantastic. And it was thrilling!"
"It was an amazing experience!"
—Facebook friends

Program note:
'Snowblind' is based on the Kitab al-Mawaqif, a collection of visionary, elliptical, enigmatic poems by 10th century Sufi mystic, Niffari. The sufi chant weaving throughout is 'Hayy'. It means Alive, Eternal, but extends beyond its meaning. 
Soundtrack: Text by Dunya Dianne McPherson, wind, Marsh Arab Drumming, Poppy Ackroyd.
The sound of wind rises and falls between text (a story), drumming of the now-vanished Marsh Arabs', and the trance-like piano of Poppy Ackroyd.
Part 1: Prologue
The dance opens with a story, a recording of a story about driving out beyond the edge of civilization. (See text below.)
Part 2: Hayy
The piece proceeds through an intense live vocal segment of 'Hayy' chanting with gestures (the dancer's live voice); it intensifies into frenzied gestural material suggesting incantation or mapping; the last middle segment is whirling with gestures.
Part 3: Maps
Poppy Ackroyd piano is less stormy but uneasy. Animals flow through the dancer who is now both creature and cosmos.
Part 4: Swallowing
In the conclusion, the dancer rolls the maps of manifestation into a small ball and 'swallows the worlds'.
"Dunya McPherson's piece moved me to tears."
"So great to see you dance again, powerful!"
—Facebook friends


SNOWBLIND text
©Dunya Dianne McPherson
I have been driving a long time, flying through the night, zooming through a maze of vacant warehouses. Streetlights loom and pass. Out of Jersey City, past Leonia, Teaneck, beyond Lodi and Ho-ho-kus, then onto the highway and points north. The dark rolls ahead and towns drop away.
I review my life. You know, the road trip—thinking and thinking as the wheels turn. My decisions and mistakes, friends, family, enemies, lovers, actions and inactions. I peel my life off the inside of my brain, roll it into a small little ball, and fling it out the window.
Eventually I come to and notice that the road has gotten gritty, then ratty. Those neat lines along the sides are gone. Where is the road? In the halo of my lights, I see a dark and white ground pocked with shimmer. I slow, grind to a stop, kill the engine. Without that hum, the world is very very quiet… I step out onto rock and ice, and take a deep breath. The air has no flavor. I feel like I've driven off the planet's life-breeding soil coat, beyond weather and insects, crops, waterfalls, garbage stink and carbon choke.
My hand has been resting on the hood of the car. It was warm but has cooled. Time to walk. My feet crunch in the spinning ice crystals.
I should be terrified; any sane person would be, but those little snakes of fear have crawled out of my skull, slithered over my shoulders, and died in the freezing dark. Snow falls straight down from Andromeda—a starry sky sprinkling its jewelry into my hair…My arms drift on their own. I sway. Silver twines through my spine. I spiral and coil in whirring snow, and the lips in my bones say poems.
My arms drift on their own. I sway. 
Silver twines through my spine. 
I spiral and coil in whirring snow, and the lips in my bones say poems.
And the lips in my bones say poems.
I am at the outpost, poised on the edge of a large bay of space. In my heart, a lantern glows, signaling across the distance to stars which I now see are the lanterns of Others. And then…one by one, the lights flicker and dim. Snuff out. The sky is empty. Not one ray. Not one pinpoint. Not one diamond. Only the purest black I have ever known.
___________________________________________________________________________

I am delighted that you are with me and appreciate your sharing these writings friends. Thank you!
My work and writing are sponsored by Dervish Society of America (DSA), a nonprofit 501-C3 organization dedicated to the Path of embodied mysticism. DSA provides opportunities for personal development, exploratory inquiry into embodied spirituality, and community connection through practice, service, and performance. DONATIONS are tax-deductible.