Sufi Thoughts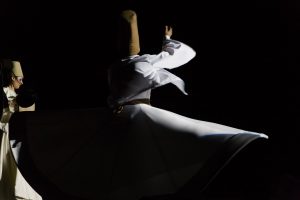 A dervish turns in white garb. A beautiful performance, beautiful costume. The tall hat, special leather shoes, a long circular skirt hemmed with rope to pull the fabric into a disc is crafted to be seen. But for most turning hours, dervishes whirl in soft, old clothing, in the shadows, feet bare and hair ragged. It is not the look of it, but the true heart heating…
I am in the south of France to teach four days of Whirling and Sufi Movement Meditations. The beautiful twelfth century facility has thick stone walls plastered by hand time and time again. In the forest climbing the circle of low mountains bells ring from necks of liver-spotted hounds trotting through bent oaks and tall, speared cedars. This particular seminar is Claudio Naranjo's psychospiritual SAT (Seeker After Truth) training—85 amazing people. I am scheduled to meet with the group daily for 3 ½ hours.
I sit sipping my cafe au lait the first morning, feeling exhilarated at the thought of introducing this practice to people I don't yet know. I decide we will whirl every day, a bold decision. I've never attempted this, either as teacher or student. In my own training, Whirling, a pinnacle practice in Sufi tradition, followed a month of slow movement, chanting, dancing. It needed deepening and slowing to make its effects digestible to the psyche. I don't have two months now. We will blast into Whirling. I trust this group. Claudio's SAT participants are well trained to experience their experience.

Glimpse
Five days later. The impact is strong, too strong to understand. I wind and unwind inside. I know something, but I don't know what. A Mystery, a Beauty. That's as close as I can point, and there is certainly no pinpointing. The last day we all spoke together about how we felt, what we experienced. No one could wrap it all up. No one has a grip. Together we see this.
One person compares her experience of her four whirls to having seen a public performance by Whirling Dervishes in Turkey. She described how they turned in short bits, a minute or two, then ritual bowing, and so forth. She said she thought that's what we might do at the SAT, but it wasn't. What she saw and felt as an audience was nothing like her four-day experience of whirling. When I asked her how she felt, she couldn't say, wasn't ready to say, or didn't need to say.
I've seen that sort of performance as well—the Whirling Dervishes of Konya at the Metropolitan Museum in NYC. The performance was a message, the whirlers, messengers. "I bring you this jewel." And museums are one place we keep precious glimpses.

Special Effect
A fellow Sufi told me about performing the Whirling in a theatre production. She whirled an hour every night while the actors did their acting in the foreground.  The play ran for a month. Filmmakers and stage directors often like this idea of whirlers as backdrops—an ancient, cosmic, human symbol. They have no idea the demand on the whirler. When the play closed, my friend slept for a month.
In my solo performances, I often included  three or four minute segment of whirling. A repeated, simple kinetic motif—a hypnotically turning figure in a long skirt—between complex segments of rhythm and design was peaceful for the audience and for me. I had another reason as well. Even short, performative whirls effected me deeply. My ability to whirl for three minutes didn't come from hours of rehearsal but from hours of whirling as a meditation with my Sufi group, with my teacher. Whirling in performance helped me corporeally remember tenanting mysterious realms in and beyond self. I wanted to revisit these in the midst of the marketplace, and like the Konya Dervishes at the Met, I wanted to share its beauty with audiences. Messenger. I wanted to share other mystical movement practices as well—slow movement, for example—but these were unsuccessful in performative context. They are too quiet or take too long and audiences become restive, impatient.

The Pearl Spins
Tucked away from audiences, turning and turning with a group, I see time before incarnation and feel comfortable that I will dissolve into the material of the Universe when my incarnation ends. It is lovely, glimpsing at the enormity. Lovely. Shots of rapture linger and linger longer and longer and longer. I whirl. A pearl pierces my heart. Then I stop, sit, melt to the floor. The music seeps into the night wind. The pearl spins in me, its lacre dissolving. The remedy of love spreads heat and stillness and bird trill in every shadow within and without. I love. I love. I love. And love is not so easy for humans, worming its way between fears and foibles, the big chip on every bargaining table. The floor under me has stopped spinning. Now, it turns slowly as it has turned since the Universe's birth.
We turn to the edge of extinction, pause between compassion for our flawed incarnation and dissolution of the deluded ego. Fana. That is Sufi work. In the beginning, we dip our toe in Fana. Rapture floods our giddy hearts. Then, like a dream, it is gone. We grasp at remembered fragments but even those vapor away. This is why many of us seek. We are given the gift. Then we step on the Path and work. We do all that we can do. Why am I here? Why? What am I? We examine ourselves through the lens of actions and interactions, peer at eternity through the window of practice. What is this life?  We open and close over and over. The heart must stretch to carry rapture. Eventually rapture subsides into ever-present burbling love, and finally into the widest, most comforting, infinitely inspiring contentment.
________________________________________________________________________

I am delighted that you are with me and appreciate your sharing these writings friends. Thank you!
My work and writing are sponsored by Dervish Society of America (DSA), a nonprofit 501-C3 organization dedicated to the Path of embodied mysticism. DSA provides opportunities for personal development, exploratory inquiry into embodied spirituality, and community connection through practice, service, and performance. DONATIONS are tax-deductible.