Her Sojourn: My Body's Post-Surgical Trauma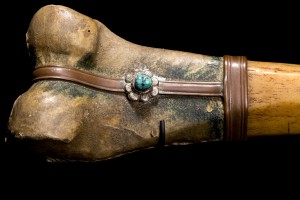 My body strengthens and slowly begins to elongate. I trust her to find her way. I trust her to do as much as she needs and can. She returns to me as she can, and I feel the happiness of her mending in the wisdom of her own timing. A year after surgery, she gives me more than bits and spurts of energy. We have chunks of industriousness and verve. We move, wider, faster, longer, more happily. We are together again, my body and my head.

Winged Victory
I have missed being able to do the Winged Victory movement from Opening Sequence. Before surgery, agony in the hip sockets stopped me. After surgery, tender fresh incision scars hurt, hurt, hurt. Then, as the months passed, metal prostheses (which may be a tad harder than native bone) pushed at settled scar tissue and adhesions from inside as the movement track traversed that high-intensity territory like a train crossing the fiery gorge. Bit by bit over the months I got closer to a direct rolling over the scarred area, circumventing less and less, using less and less cushioning. One evening, a year after surgery, I am on a thin rug, not paying too much attention — a feature that often invites possibility for my body –– and a fledgling, accurate reentering of the Winged Victory movement surprises me. Rolling over scar tissue isn't the funnest sensation on Earth. The track is guarded, but no flinching or aborting. She does it. My body does it. She has come to it in her own time, when she is ready and not at the decree of my hyped-up-guard-doggy head.

The Better Tools
Dancemeditation training has been the wide warm blanket cradling my sojourn in post-surgical trauma. These are the qualities it cultivates: kindness, patience, non-fussy awareness, somatic respect, appreciation. This contradicts our culture's panicked get-back-in-the-saddle-yesterday attitude. Speed and drive might be factors in mending structures, but not in healing trauma. We need to step back and be present. To not breathe down our neck, waiting to pounce, to fix, control, or hate.
Where does our head need to stand in relation to our body? Not too close. Not too far. Discipline is a Christian virtue but not an animal one. The animal self, our furry self, our baby elephant self needs and needs and totters and lolls and wallows joyfully in the discovery of clean, wet mud. After surgery, my heady head watched and appreciated all that my body was doing. This is training. My head has kept my body company, congratulating her on her organic forward recovery, listening to her frustrations. This is training. My body has had a long way to go. Pain. Sorrow. Terror. Unfamiliarity. Effort. Quite the sojourn.
________________________________________________________________________

I am delighted that you are with me and appreciate your sharing these writings friends. Thank you!
My work and writing are sponsored by Dervish Society of America (DSA), a nonprofit 501-C3 organization dedicated to the Path of embodied mysticism. DSA provides opportunities for personal development, exploratory inquiry into embodied spirituality, and community connection through practice, service, and performance. DONATIONS are tax-deductible.