Ravenrock Notes 2015 Week 1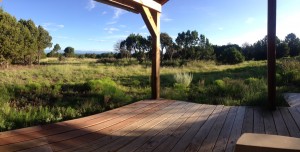 Art in the Sky
One reason I love the southwest is that I like good art. The sky here is good art. One has to like the predominance of blues and whites as well as the pinto pony patches sliding over the land's crags and bumps. The magician plays the light, revealing and hiding, scuttling along the eternal, unmoving rockface. These variations change more swiftly than the languid seasonal flow of light. My surrounding in not a reliable sundial of elastic shades reaching and shrinking readably as a clock. On the mesa, hour to hour, if one could even capture the measure of time, which mostly slips out of reach, shadows dart energetically, whimsically, urgently, or in sluggish desert torpor. This volatility populates my solitude, making human entertainments flat, predictable, and small by comparison. My artistic training has provided me with tools to analyze what I'm observing, which I attempt off an on, but only for the purpose of appreciation. Compositional stratagems are inadequate to the light's infinite variety.
Before I arrived at Ravenrock, I felt I should have a project to focus my time, fearing that I'd feel untethered and lost in the solitary wilderness. I thought I might explore the feeling of loneliness, which we all imagine must plague those who are in solitude. Loneliness had been stalking me back east, in my childhood home where I had just ushered my father away from Earth and where I had been housebound during a year-long recovery from surgery. My final weeks throbbed with sadness, loss. A life never to return. Memories of my father whose absence is enormous in my life. Even though my brother lived nearby and I could walk to thriving Woods Hole Village and listen to scientists and students and wayfarers chat as I drank a cup of mint tea at Pie in the Sky Cafe, I felt lonely. Life moved all around me, yet I felt separate. That is the heart of loneliness. I thought that loneliness was stuck to me, would travel like a hump on my back to New Mexico where it would balloon and slam. Having a project might help me treat loneliness like a 'thing', an object, though loneliness is more like a fog, an odor, an effluvium. However, here I am, surprised. The sharp scorpions of two summers ago have metamorphosed into butterflies, the souls of freedom and lightness. Grasses gambol under a symphony of clouds. The world is full. I don't feel at all lonely.

Meeting Heat
In the heat of the day, I took myself down to the Rim Cabin. It must have been 90 degrees. Scorching. I wore a white long-sleeved shirt, hat, sunglasses, and work gloves against the fierce sun. My sweat dribbled over my forehead, down my belly, and evaporated immediately. Once at the Cabin, I sat in the shade to rest. The wind dashed down the rocks under the Ponderosas to cool me. I removed my hat but had to use it to swat away flies. My face burned hot, and I saw later, when safely back in the Croft, that it was very flushed. I stripped, showered, and lay down, waiting for my body to release the fire. Soon and swiftly, the heat of the day passed and the evening cool came in. Within twenty minutes, wind dispelled by the heat. A bank of gray cloud spread across the sinking; it could not penetrate, though it glared fuzzily, like an angry dog from behind a fence.
The Afternoon Ballet
I took my seat out in back of the Barn under heavy gray clouds and small rococo white puffs. Immediately a hummingbird zoomed right up to my eye, hovered, stared, then whizzed off.  Soon after, two ravens soared into view, high at first, two inky eyebrows in the massive haunches of cloud. Gradually swooping closer, lower, they circled my meadow, the fringed edges of their wings slinging wind fat with the scent of honey. They hypnotized me, their closeness making fall in love. They left. A tiny yellow butterfly fluttered up, nestled near in the grasses. At length, the two ravens returned, then another, so it was a trio. Then two more and two more. Seven in all — a quadrille and a trio, The sashayed back and forth, rose vertically then careened around, switching places. They braided in and out. Not rooted to the ground like human dancers, their patterns slide across multiple strata. The wind sighed, shushed. Their raw voices pierced the wind, then tossed out into the canyon as they soared away.
______________________________________________________________________________

I am delighted that you are with me and appreciate your sharing these writings friends. Thank you!
My work and writing are sponsored by Dervish Society of America (DSA), a nonprofit 501-C3 organization dedicated to the Path of embodied mysticism. DSA provides opportunities for personal development, exploratory inquiry into embodied spirituality, and community connection through practice, service, and performance. DONATIONS are tax-deductible.