The House in the Forest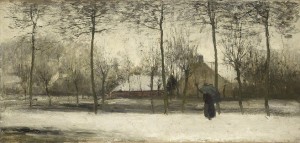 Fairy Journey #1
In the house in the forest
I dream of ways to say
'no'…
Some of my thoughts for this narrative:
1. The Red Copse: Are these trees on fire? They are in the distance. There is time and space to consider how or when or why to go there. But I have to go there.
2. Bed: The secret place of dreams. Solitary. The natural world is printed on the walls of a place that protects, contains.
3. Duel: Kill it. Very simple this one.
4. Snow Chairs: I feel that chill yet pristine freedom and magic that cold is. The impossibility of surviving. Two chairs. More than one. A relationship.
5. Duel: Pushing away the Other.
6. Ripples: The sea carries everything from once place to another. She is alone with Magnitude.
7. Gazing Down: I have done this too often, for too long, for centuries…
8. Woman in Dogs: Are these her guardians, her pack, her true nature?
9. No: So beautifully dressed but not moving. Death. It is the 'no' that happens if I cannot find a living 'no'.

Thanks for reading and for sharing this with friends.
Not getting weekly blog notifications? Email me with 'blog list' in the subject line:
dervish@dancemeditation.org