Meeting Kwon
Soon I will get detailed about this condition and operation but today it's about meeting my surgeon.
I pass through the revolving doors of the Yawkey Center at Massachusetts General Hospital, between the glass walls then the brushed titanium elevator doors that whisper shut with efficient deference. The folks at Reception hand me an iPad with survey questions about my pain levels and can I walk 0-2 blocks, 2-5 blocks etc. etc,  that feed right into their database. Next I hit Radiology with technicians who x-ray every angle, and now, in the small, tidy, dim examination room an intern  yanks my legs too fast and far, like all the previous doctors in the diagnostic process. Seeing me wince appears to be an essential data point. At last Ric and I sit quietly, waiting. So much depends on the next person we see.
I feel the air push toward me. The door opens halfway. Dr. Young-Min Kwon moves through with exactitude and offers his hand in a brief perfunctory shake, almost pulling back within the cool clasp that is neither too dry nor too damp. I would want my surgeon to have hands like this. Of course he will wear gloves and a moonsuit, but somehow I am comforted by the neutrality and availability of the hand that has just met mine.
He has a mild face and measured, quiet voice, his accent a pastiche of Korean, Australian and British as he asks me about the onset of my pain. Please walk a few steps. I can barely stand or step without my canes. He says please use them and after three steps says it is enough. No yanking my limbs, no shuffling paperwork. Even as I take a breath to launch into my questions, he answers every one in three smooth, steady comprehensive sentences. Hip replacement, of course, as soon as possible, the approach he will use (mini-posterior), the hardware he will use, how he will choose it and why, and the second side once the first has healed solidly–he doesn't commit to when.
He pauses as I digest, then asks with true curiosity, "Why did you wait so long to come in?" Because he can see perfectly well on the X-ray, which he now pulls up on the computer to point out the dysplasia, that I must be in terrible pain.
Well Hip, Sick Hips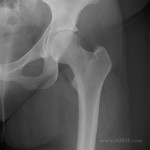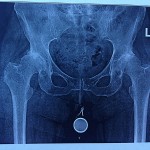 On the left is an x-ray of a healthy hip. On the right are my congenitally dysplasic hips. I finally can see the femur only halfway into the acetabulum. It should be well nested in. I see the small white glow of bone-on-bone spot where my entire body weight rests, and the dark space along the socket arc that is not cartilage but instead inflammation and emptiness that my ball careens around in, clicking and clunking and rumbling constantly with pain in every shape and color. (Click on the blue photo to see the L side which gets cut off in the thumbnail.)
Because Mass General is a Harvard teaching hospital and Dr. Kwon is on the faculty at Harvard Medical School, I ask him quietly as we gaze at the X-ray if he will perform the surgery. Without looking at me, without hesitation, "Yes." And all the weight of this past six painful months slides off me and into his hands.
I Have a Date
Ric and I wend through Boston traffic and on toward the Cape, recovering from the news and the pace of the news. I like him, I say. I like him too, Ric says. Kwon is the 'fixer'; aside from standard procedures like mine, he does revision surgeries on people with failed metal-on-metal implants. It is always hardest to repair something gone wrong; I should be a piece of cake for him. I consider it great fortune as well, that I am his first surgery on the Monday morning after 4th of July holiday weekend. He will be rested and fresh. But all these general details are less important than the sense of him. Though he was not particularly forthcoming or chatty, I felt a warm presence, a trustworthiness.
July 7th. Sixty five minutes in the Operating Room. Okay.

Thanks for reading and for sharing this with friends.
Not getting weekly blog notifications? Email me with 'blog list' in the subject line:
dervish@dancemeditation.org