Mexico Retreat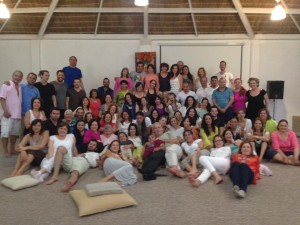 The retreat in Mexico is complete. I sit under the canopy lunching on greasy, soft pork ribs with Claudio Naranjo and Cynthia Merchant. Sparrows dart in and out of the bougainvillea, calling sharply, insistently, joyfully to one another. We watch them meet and tussle face to face, wings whirring in their mating. They carve little hollows to nest in the rush roof over our heads, then gather fallen feathers to upholster their birthing chambers.
I said, "I have a new life." My heart felt soft. It was odd to name this. To call it out of the warm and glowing air wrapping green lawn, magenta bougainvillea, the ornate white iron chairs. My heart is a garden; the flowers there are whispers, soft yet robust. Subtlety is no longer frail, always escaping my awareness. Today, subtlety thrills all of me in a continuous flow, the way sunshine cascades over one's shoulders whichever way you turn.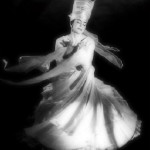 Whirling
The students turned and turned in the Whirling, and I watched. My hips bound me to the teaching station. My stationary-ness gave wings to my sternum, to my eyes. The energy flooded through; they trained and activated the room. We all did. Some day they will know how to generate from sitting and watching. Just the doing of it begins to crack away the callous imperviousness of which our lives of chiefly made.
Then, after, a flaming, glowing rose bush of hearts at the completion as we laughingly clustered for a photo. Together, arms all entwined, joy gushed out of each fountain face.  Was the hilarity that possessed them all night the spinning in their hearts, that unwinds the terror of being born a frail separate human in a snug sack of springy skin, pushing at space with little feet, grasping at air, crying in a void? The heart waits for all the growing to finish, for the consciousness to be ready. Then the heart pushes. It's time it's time. Was the hilarity around the fire the voice of 'finding?' The Finding—Wajad.
All they had to do was turn and turn. All I had to do was watch them.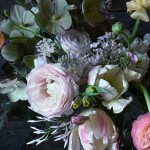 Orphan
Claudio. Not my teacher, but a man I honor and a man who inspires and a man that helps me remember what I really am and really do. He found me, by way of Cynthia, in a dark back alley. That's how he does. He finds his constellation and gathers them. He doesn't interfere. He sits quietly in his own universe at the center, arranging the fine pieces of ideas and people, of possibilities. He grabs his thinning breaths. He weaves. Cynthia, (my translator, because I don't speak Spanish),  a bright sharp bird, flies out, darting eyes, spinning mind. She dives in—to herself, to deep works—and surfaces shaking diamonds from her tresses.
I have been gathered up from where I was abandoned. Where I quietly went along. I have a loyal little tribe in America, in a culture that is shallow and hasty, harried and frightened, careening toward a cliff edge but unwilling to turn back or even hesitate. That's where my small tribe toils and works. Nothing on this earth is more important than that toil. I have felt like an orphan, but now, even if this journey near Claudio doesn't go too long or too far, it reaches farther than I hoped it ever could. I've  re-entered the sea of humans in the only way that matters for me. Maybe I wasn't ready before. Maybe…maybe it just wasn't my time.
Perfume & Thunder
I talked to the group in Mexico about the Progression of Scents with Dad. As I was just concluding, a thunder burst growled around us. For ten seconds the heavens drummed loud on the clay and reedy roof. My father! I said, and everyone smiled, exclaiming for me, with me. I belong in this world of humans in all my radiance, and my radiance invites theirs, keeps theirs company. This is the teacher I have always wanted to be. I am who I want to be, not just settling and accepting what I am, but rising, stripped to my heart, reveling in who I always wanted to be. It is every bit as wonderful as I imagined it might be.
Inside my heart I feel that I have sincerely plodded for years and years and finally, wearily, reached the edge of the dense thicketed woods, and stepped into a meadow full of blossom and sweet grasses and light and soft breezes. And moss under one enormous beech tree where I can rest and savor.

Thanks for reading and for sharing this with friends.
Not getting weekly blog notifications? Email me with 'blog list' in the subject line:
dervish@dancemeditation.org