I Want My Hips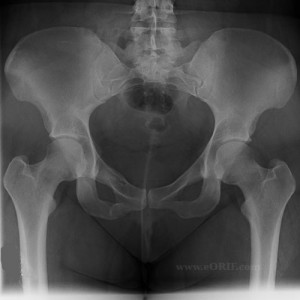 My hips have made it clear; they want to stay.
And I want my hips.
Last week I spent a morning with Dance and Sports Medicine specialists looking at my hips and films of my hips, getting the docs' opinion on what to do with my pain. It took some time to digest their words, to even hear their words. At some point I'll pick apart their information, make choices, and set out plans, but first, where is my deep feeling?
I sit in a chair, breathing, my sipped tea on my tongue. I close my eyes…The cool spring morning slides over my skin, rumbling into my ear with distant traffic and near birdsong. I wait for my inner vision to sharpen. It is murky, difficult to untangle from the sensation in my sockets. Instead, I see my x-ray* bones, sheer jellyfish in a black field. The femurs sit wide apart, the apparatus torqued.  An x-ray catches only one inside view.
I grow closer to the bone, pops into my mind. I saw each day my dying father's bones float to his surface. "Of his bones are coral made." That would be so if he had lain on the ocean floor, but he lay on a bed in a room, his bones pale shadows of light far down, growing whiter and whiter as they floated up to death. Would growing closer to my bones mean an embrace of life or a preview of my dying?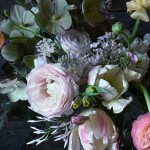 Garden
I continue to watch. I know inner gaze takes time. I shift my hips slightly, and enter a friendly, dark, nestled, familial warmth. These bones are my family. They do not represent my family—-they are my family, my beloved blood companions churning out my blood. They go wherever I go, arriving before or after my awareness, carting my desires and directions. I reach my heart's arms around them. They seem to walk toward my heart.
Yes, I want you, my bones. Furthermore, I desire your wants.
"Go down in," she says," with all your energy. There is a door. Open the door and pass through. You are in the Garden. Bring your request there. And remember, the whole request, not an agenda." As she speaks, I've slid down my breath into my pelvis, a garden so sweet I nearly faint. Vines in the umber earth. I am bemused by the perfume and the beauty, the half dark, the gleams of light. Sturdy, vibrant blossoms flourish in my hip sockets. I muster myself to find that ping in my heart and drop it, glistening, onto a petal.
I want my bones. And my dance, too, and whatever the Divine Eternal has wound in my coils creating my destiny.

There, I formed words, or something like words, though this new world discourages clarity. Later, I rise on billows of languid breathing. I am so tired,  so happy. My request gestates in the Garden, and I can't wait to return. To see how it is doing. No, not really.  Just to wander there…A few times I try to go back but fall asleep as I descend. "To sleep, perchance to dream." Perchance…
* The x-ray here is not mine.

Thanks for reading and for sharing this with friends.
Not getting weekly blog notifications? Email me with 'blog list' in the subject line:
dervish@dancemeditation.org