Corpse
by Dunya on March 12, 2014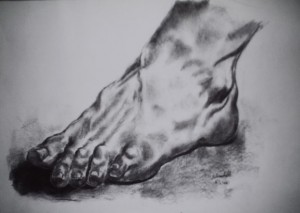 In bed, alone, under two duvets to be warm on a cold night, I move with music in the earbuds. I focus on my right leg, which strokes the sheets, then my right side. Whoosh, a flood of tears. Strange chunks of brittle, wooden tears. Inside gloom in my skull I see Dad. Dad—-after he stopped breathing, when we were alone in the quiet room before the coroner arrived. Quiet. No longer hushed. Empty quiet. I sat in blunt shock of a din gone. His body cooled and stiffened. His skin drained and tightened over the bones which wore little other than a thin coat of muscle and fascia. He grew emaciated. I still write 'he'; he was still Dad to me, but quickly becoming not-Dad in an unfathomable way. He was not anonymous or neutral, but he moved beyond my reach. Until then, throughout all the caregiving, his beating heart and breathing lungs tied us together. I felt intimacy build the closer we came to the threshold. I knew he would step over, would step away, but sitting next to him after the pronouncement I knew true solitude.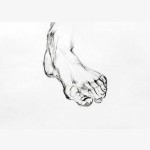 Last night, as my legs moved under the covers, their melting tundra revealed my father's corpse. That corpse contained separation at the most primitive, cellular, biological level. His body had created mine and now that body was finished. I was alone with the hair, the eyes, the skin, the bones. Where it all came from, all gone…And my cells felt lonely. Not solitary. Lonely.
Our dim death room stepped so fast on the heels of life. The contrast was extreme and both conditions were new to me. My heart stretched with love the way a womb fills with a child, then empties at birth. Yes, the heart is a sort of uterus.
I grow stronger, healthier, more vital. I feel optimistic and pleased with my days and with the prospect of days to come. I enjoy family and friends and beloveds alive around me, but his absence is like no other. I had anticipated this year of grieving to be episodic, an antiphon of sadness at loss and happiness in the new phase. What I did not expect is that my previous knowledge of loss does not match these surprising gifts. The gifts of surprise.

Thanks for reading and for sharing this with friends.
Not getting weekly blog notifications? Email me with 'blog list' in the subject line:
dervish@dancemeditation.org