I Cry All the Time
by Dunya on January 23, 2014
From writings about helping my father as he completes his life. At this posting my father has already died, but I want to share in this and the following few posts descriptions of his end days.

December 20
His eyelids flicker. I rarely see his blue eyes now since he sleeps most of the time. "Eyes are a piece of the brain," someone once told me. Not as poetic as 'window of the soul', but right now that understanding of eyes captures my experience. I'm mostly shut out; those gatekeeper eyes slam the door in my face.  I'm alone out here in the chair by his bed.
I cry and cry. My heart is thin pieces of flesh stitched with patches of pain; the organ beats, but how can it hold together? My head has the right adult words of generous support for my father's departure, but my heart, a small child grasping him, drags her little heart feet.
He rolls his blue eyes open and looks fixedly at the space above the mantlepiece. Beings move to and fro, or so it appears to me. His hand is cool and waxy. His gaze slides over me, not stopping, not connecting. He is far beyond me. I tell him not worry. I am here for him. He can go if he wants. I'll be okay. My brother will be okay. We will take care of Mom. All the things people have coached me to say that ought to concern him, but I sense that these are not what he frets over. I don't know what he needs to hear to let go, I just know we are getting close.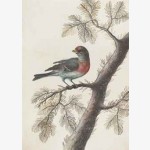 Three Days Ago
We sat on the deck. The builders finished it just in time for us to transfer him to a wheelchair, roll into the fresh mild air of this winter morning. We wrapped him in blankets. The sun in a sheer milky veil, gilded nodding trunks and branches. He studied the mahogany boards, glanced out beyond the edge, seemed to be, all of a sudden, a man who knew his world, this world. Back inside afterward he immediately fell asleep, his face pulling into long hollows, chest thickly sucking air in and out, then stopping for more beats than was comfortable to hear.
Then his breath resumed. Relentless body.
A Hundred Gulls
This morning I stand on the deck. I will always know he was here. Beyond view the ocean booms and seethes on the Southwest wind. I see a flock of fat robins bigger then cardinals, as big as towhees bobbing on the grass and skipping from branch to branch. A gray squirrel and a black squirrel forage in the glen. I think of sitting last summer on a rocky shore in Maine with Dad. A hundred  seagulls chose that spot to gather and palaver. We watched them squabble and jockey and dip into the wavelets to return with a morsel clasped in their beak, drop it on a hot dry rock ready to smash its shell and feast only to have to fight off a lazy opportunistic neighbor. The language! Chortles and gutter, mews. The hours passed. The sun and salt seeped into me. Dad reclined on the bumpy rocks as if it was a mattress.
At night I stand on the deck under the stars. The waves crash…

Thanks for reading and for sharing this with friends.
Not getting weekly blog notifications? Email me with 'blog list' in the subject line:
dervish@dancemeditation.org