Ravenrock Update May 2013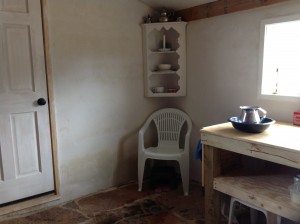 While I wiled away my hours on the East Coast this winter, Si Avila and Will Martinez have been steadily working up at Ravenrock. It was a fantastic surprise to arrive and see all the progress. A dance floor!!! A fantastic dance floor. And more. Here are a few pictures ~
The dance floor is plywood sanded and finished with Monocoat that leaves it strong and satin-y. Beautiful to touch and move on.
Here are views of the room adjacent to the Dance Space. It is marvelously insulated with papercrete walls that have been stuccoed and plastered.
Si trimmed a few trees to expand the view of the Sangre de Cristo Mountains and Hermits Peak. Here is a before and after:

Thanks for reading and for sharing this with friends.
Not getting weekly blog notifications? Email me with 'blog list' in the subject line:
dervish@dancemeditation.org