Yes…yes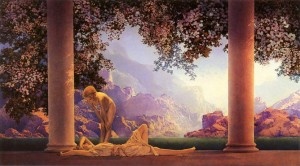 My father sat on the edge of the bed as I hung a framed Maxfield Parrish print of 'Daybreak' on the wall at the foot of the bed. He was happy gazing at this dreamy scene of two nymphs in a temple with gilded mountains in the distance. Then I handed him a smooth pale gray and salmon stone I'd brought from the beach. He liked that too.
He is at a dreary, institutional nursing facility for the time being, confined to a locked wing so he won't stress himself. (For previous post about my father's aphasia: Five Things.) We have a way of talking now. Most things he says don't make sense if you hear him for the first time, but I go in every day and am getting used to his inflections and reversals and peculiar rhymes. Though he generally answers 'yes' to most questions I ask,  I know the difference between this 'yes' and that 'yes'. Often he knows he is saying something unintelligible. He rolls his eyes. Somehow as we progress through time, we mind less and less.
The Sugar
Here is one lovely phrase from a few days ago "Not the automobile but the sugar and the twenty…Twenty…" It was full of clear words. A poem. Today we laughed the laugh of how bizarre and impossible it all is, but we mind less and less because we are together and understanding courses beneath the word mess.
Sometimes a full sentence plops out into the space between us, just as lucid and right as at any time before the stroke. We are both surprised, and we laugh the laugh of delight. It seems so easy! You just say it! Then the next sentence is the automobile and the sugar and the easy moment has darted away like a butterfly. But we mind less and less.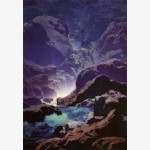 Forgetting
He has wanted to go downstairs off the locked wing. He feels suffocated, bored. He wants to go outside. He wants and wants…I see him forgetting that he wants to talk, that he wants to be the way he was, just the way I have forgotten what it was like to have a normal right arm. I have gotten used to my paralyzed wing. He is getting used to his strange mind.
This evening I said, "Dad, if you broke your leg, you wouldn't be running around the field right now. You would lie on this bed and rest and let the bone heal." I reached out and touched the side of his head. "Your brain is injured. It is broken. You can't work it too hard. You have to let it heal." He listened to me. I don't know what words he heard. He heard my tone. I saw him relax a bit. Then he looked out the window. It was late day, the sun gleaming on the trees in the playground of the schoolyard next door. Life is for learning. We are both learning so much…
"There is pleasure," I said. "There is pleasure now."
He turned to me.  "Yes." He smiled. "Yes."

Thanks for reading and for sharing this with friends.
Not getting weekly blog notifications? Email me with 'blog list' in the subject line:
dervish@dancemeditation.org