Five Things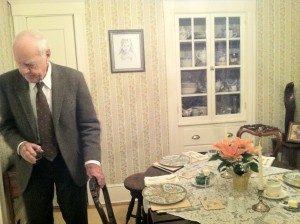 The hardest thing for me about this past week is starting a new life. I've gotten reasonably good at this in my own sphere—projects, locations, content, people—but returning to visit my parents in my childhood home has been, for better or worse, changeless. Today I sat with my father at Spaulding Rehab Hospital observing his speech therapy. He relearns the language of counting to 5. How to touch five blue wooden blocks and count, 1, 2, 3, 4, 5. How to look at the numeral '5' and say five. Sometimes the therapist puts two blue blocks on one side and five blue blocks on the other and holds up a piece of paper with the numeral '5' and says Which one is five? He struggles to understand what she has said. He counts 1, 2 on one side, then slowly, hesitantly 1, 2, 3, 4….he gets stuck here, 4, 4, 4, 4, 7, 4, 7, 7, 7…She stops him and asks again Which one is five? He looks and we hear him working through the strategy of counting up. He points to the group of five blue blocks and says Five, and she beams at him and gives him a thumbs up.  That is when it goes well.
He groans because he knows exactly what is happening and the frustration of not being able to do this fundamental task feels wretched. But he knows there is no other way, no way out of this torment of going, at the age of 92, in a few short hours, from being an intellectual, a scientist, a philosopher writing research papers, and attending and giving high end lectures, back to 1, 2, 3, 4, 5.

Foreign Land
One morning he woke in a foreign country, not understanding words spoken around him, not being able to read the alphabet, and not being able to speak words he had known all his life. They existed, but he couldn't find them. The term for this is aphasia, the result of stroke, in which a blood clot gets caught in an artery in the left brain hemisphere impeding blood flow and, in his case, killing tissue around the areas that effect language–speaking, understanding spoken words, reading, writing. Communication is complicated. His hearing center is fine. His ability to perceive and connect with music is fine. His motor cortex is fine. He can squeeze my hand, walk, button his shirt, pick up his tea cup and open his book, but he can't decipher the words on the page.  A great deal is in tact, but what is damaged screws the whole process. He is 'in there.' I know it. But the way in and out to reach him has been erased.
I try to imagine this. It is as if I went to move my arm and it went backward instead of forwards. I try to move it in a circle but for some reason I can't remember what a circle really is. I know that I know what a circle is, but I can't grasp the edge of the motion and my arm, trying to obey me, flutters in the back. If I look at other people they are doing strange gestures, or walking backwards through the hallways. Maybe this is what his world is in language.

Sitting with My Father
I sit with him in the evening. He is tired. We are alone together in his little room. He is strapped into a wheelchair so he won't dart about and fall, even though that part of life is mostly okay. He looks at me. He shrugs a bit. Says a few unintelligible words. He looks and looks, as if he could pour his inner life through his eyes into me. I know he is feeling weary of it all. His fear of death faces him. I know he has a low opinion of death; he thinks it is not something to look forward to, that non-existence. He has had a ridiculously blessed life, and he has not wanted to leave it, but just now he gets a huge misery. Right now he is coming to terms. I know he is terrified. I say, I know Dad. And I do. Somehow I do. He nods.
Between the labor of finding words, he hunts for a bit of peace, a bit of familiarity that can bring comfort. Italian Renaissance art, the taste of coffee, music. I brought his favorite CD of Itzahk Perlman playing the Brahms Violin Concerto. He listens to this on a discman and life is solid again. So there is music. We hold hands.  This seems pretty good.
I often write about trusting my body.  Would I, if faced with a loss like his, focus on the enormity of loss, as he must right now (at rehab they work him and work him in hopes of some recovery) or would I turn towards the shreds of myself? Would I turn to music and daylight if language left me? Would I turn to breath sliding in and out of my nostrils if motion left me?

Turn Away, Turn Towards
His loss is mine, and his question becomes mine. After Spaulding, I drive back home. The house is cavernous and flat without him. Meaningless, in a way. His absence shows me the enormity of his presence. What was changeless is now changed. My mother putters around, quietly losing her mind, gently stashing it in small dark corners, hoping to remember…just what, she wonders, then forgets to remember…He can't be with her now. She digests that. I digest that. Home had been tucked into my back pocket, a worn bit of paper with a poem. Now I reach back to find a shiny oblong of plastic with New Rules about this new time. 1. Say two words and use a hand gesture. 2. Move calmly and smile. 3. Flood the room with uplifting daylight. 4. Remove treacherous chairs and tripping up rugs. 5. Love and love. Five. Five things. One, two, three, four, five…

Not getting weekly blog notifications? Email me with 'blog list' in the subject line:
dervish@dancemeditation.org