Need for Simplicity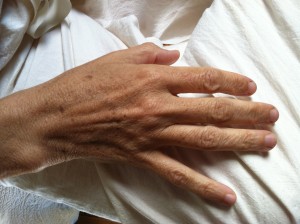 One must have enough to engage in Path. What is the right amount?
I have always felt that choosing simplicity—which is not quite the same as poverty but similar—was less of a strain on the ecosystem. Have what is essential. Don't indulge. Animals get this equation right. Humans have to work at it. Buddhists, Sufis, Yogis, and pretty much all Paths, know about appetites and the need for simplicity. One of the seven stages, (maqams) in Sufism is Zuhd —simple translation, Renunciation, Detachment, Asceticism. It is not an achievement rather an area of practice, to be revisited over and over again. Zuhd concerns letting go of material attachment as well as the attachment to egotism of renunciation.
The Right Amount
In A Woman in a Polar Night, Christiane Ritter beautifully recounts her year in the Arctic Circle in 1934. (I highly recommend this book!) She was catapulted into Zudh. It didn't take her long to see it and embrace it. Afterward, she returned to her bourgeois life in Austria entirely changed from her substantial experience with enforced simplicity and renunciation. When her fancy home full of belongings burned to the ground, she didn't replace or mourn it. Instead she lived simply, as an artist, until the age of 103. (Perhaps she was also a mystic, but that detail is not included in her thumbnail literary biography.) She found she had the right amount.  Zuhd stuck with her for life.
Luck-of-the-Draw
Our surrounding world's involvement in materiality has changed radically since the 60s and 70s when being nonmaterialistic was popular. Now being sickeningly rich is popular. Once I tasted Zuhd, I chose it, and though I feel more and more out of place, I  still choose it. Not destitute, not a burden. Artist, Sufi. Our culture still has a tiny corner of tolerance for us, even though it trumpets that shopping is the highest virtue. I seek on in that corner yet, like an aerialist over a net, I have a middle class family that can catch me if I fall. With these perfect conditions—enough but not too much—I continue to struggle to understand, and feel deserving of, how I use my luck-of-the-draw.
'Do No Harm' is at least as strong, if not stronger, than 'Do Good'
Choosing simplicity helps me grapple with aspects of greed in the self, and pride. As well, I don't want to be subsumed in materiality because I like time to think and feel and reflect and create. An appetite for these causes less harm than other appetites, and since we are all prone to appetites, choosing the least harmful appetite for self and world, is a crucial choice.  'Do no harm' is at least as strong, if not stronger, than 'do good.'
One must have enough. What is the right amount?
For you, what is the right amount?

Thank you for reading and for sharing this with friends.
Not getting weekly blog notifications? Email me with 'blog list' in the subject line:
dervish@dancemeditation.org