Last Morning on the Mesa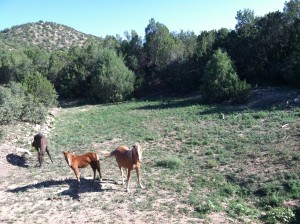 Late September on Apache Mesa

Early Day
A towhee rustles in the scrub oak. For this I love the oak.
Sun dimples two bright dots on rounded haunches of the blue ceramic Japanese tea cup Kathy gave me. Its delicate craquelure beneath shiny lacquer is a map to unknown lands. My heart wanders along these, digressing languidly. All the inner maps in my life.
Stars in a Tiny Cosmos
I lay in bed for a long time this morning. I watched dust twinkle in a shaft of morning light. Baby beacons winking in a lilliputian sea. Stars drifting in a tiny cosmos. There is so much space between each particle. Now I drink tea in Pine Bower and gaze at the dense carpet of long needles under my feet, thinking ahead to NYC or NJ with its interlaced freeways, packed streets, power lines above and below ground, sewer pipes, water mains, gas mains, and subterranean pneumatic tubes that once scooped hard copy documents from one sky scraper to another. Now radio waves laden with communications about money and strategies and power lunches mix with exhaust fumes from buses and taxis, making an invisible yet palpably dense carpet in the air above NY Metropolitan area.
In the bower, wind doesn't disturb the needle carpet. Occasional rainfall has nudged it incrementally down the slope in a few patches where no stone stops it. Gentleness engulfs me. Perhaps I will carry the honey of this last mesa morning in my cells as I dart through the bustle of human intercourse.
Later
I made a few videos up at the barn then promptly cracked my head on the corner of a protruding form that, once removed, will be the door to the Winter Room. Symbolic. The Barn is trying to keep me here. As I drove off the mesa, a large black horse stood across the road. It stared at me, motionless, as if to say, "Are you sure you need to go?"  He waited, giving me a chance to change my mind. At length he stepped to the side the walked beside me, escorting me away.
All the way from Romeroville to Bernal, an enormous gray umbrella of cloud with misty streamers fringing its edges arced overhead. Departure was so magical. I cannot wait to return.
Departing is significant. How do you recognize it?

Thank you for reading and for sharing this with friends.
Not getting weekly blog notifications? Email me with 'blog list' in the subject line:
dervish@dancemeditation.org