Guest Love to Alia's Peeps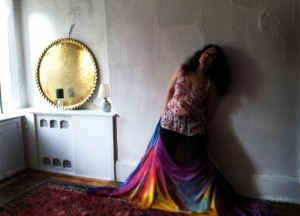 My friend, magnificent dancer and being, Alia Thabit, invited me to write a guest post for an online 90-day daily practice group she is conducting. I addressed two topics she and her group have been working on.
Hazy End Goal
What makes daily practice interesting to me is engaging in it with no fixed expectation. A hazy end goal is enough. Saying, "I'm heading there," is enough. Anything else gets a little delusional. I've always felt, for instance, that lugging an intention into practice defeats the purpose because 'intention' is another word for 'feelings.' Why script that? Feelings are part of what changes day to day, and in an accumulation of days, like your 90, you paint a portrait of yourself for yourself—either of your fixity or of your transformation, whichever you are living through. It's the first stage of getting to know the real you.
When I first started daily practice, I was self-righteous. I was making myself up. I was competitive, competing in the  sphere of saints and seekers, being as good or better than the other hundred thousands of souls who have made strong commitments throughout human time. It's funny in retrospect. Ego-driven. Of course, barking up that crap tree I experienced a lot of frustration and pain. Despite myself, the content of my practice generated compassion and solace and joy and other lovely experiences along with the head-slamming. But the result and the insights about self are less important than the doing of daily practice with awareness, like noticing the road as you drive rather than getting 20 miles down the interstate and, like amnesia, having no idea of what just happened.
On Improvisation
When we improvise, the mind we want to let go of is the memorized mind.  If you do memorized stuff, you are just doing a 'show and tell', watching the inside of your skull in front of an audience.
Good improvisation is a conversation, a give and take—with the musicians, with the audience, with yourself—and it requires being aware. You are still using your mind, your attention, but you are using it to be aware. Notice the room, the people, the twinge in your thigh, the floor under your pivoting metatarsal, the veil snagging on your waist and gliding between thumb and forefinger, the music spreading open as you sidle into the spacious hallways between the notes. Any good improviser is like a cat pouncing on that bit of string and chasing it down.
In improvisation we want the aware mind. Daily practice focusing on being aware helps us develop that.

Thank you for reading and for sharing this with friends.
Not getting weekly blog notifications? Email me with 'blog list' in the subject line:
dervish@dancemeditation.org