Alone But Not Lonely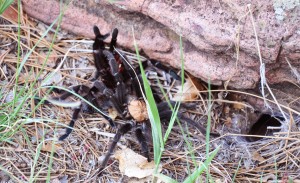 Desert
I remember listening to Old Testament tales in church as a child about so-and-so going into the desert alone, and I thought of the desert as a horror. I lived in a lush green town, with lovely meals cooked by my mother, and music and dancing and friends. The desert sounded forbidding. The saint would fast and cry out, would have revelations, and it was difficult and lonely and painful. Now I am in the desert. It is harsh, but it is kind. It is full of life. It divests me of my worn personality robes, blows dust at me, and displays a tenderness I had not imagined. The desert—a secret beauty.
The Mesa Suits Me
On my birthday, Ric and I took a drive to a nearby mountain called Hermit's Peak, the view I see from the Barn Porch. It is close but utterly different—wetter, thick growth of Ponderosa Pines, 9000 feet, and steep. I realized for certain that I don't like the claustrophobia of dense mountains. The mesa, harsh and wild as it is, suits me. I like to look out over a vista, and now that I am growing used to them, the spiders and reptiles fascinate and delight me.
Tarantulas and Other Residents
The Work Group saw two tarantulas mate, quite a nice procedure as animal matings go. Face to face, with his help, she arced back to receive him, her very large fangs hovering at the ready just over his head. New Mexico tarantulas are classic—huge, black, and hairy, but her 'back-of-head' is dusty-colored while his is yellow. She lives in a hole at the edge of a massive rock by my deck. He is itinerant, apparently.
There are lots of birds on the mesa. Morning tea in the Pine Bower is like sitting in an aviary. Hoards of humming birds burr by to get their last meal before migrating south. Lizards and gekkos—utterly likable. The elegant Praying Mantis. Rattlesnakes are the big guns, of course—scary, evocative, and portentous. There are the occasional jack rabbit, bunny rabbit, and chipmunk, and scat from infrequent, unseen visitors like coyote, deer, and bear, as well as big cat paw prints.
Alone But Not Lonely
When I am alone here, the creatures are my companions. I feel their busy-ness, their purposefulness, their industry and their leisure. When Ric is here, they entertain us. We speculate about their doings. What are they 'thinking' and being driven by? Creature life with its slowing effect, helps me see that I am less hard-wired than they while simultaneously connecting me to the soft rhythm of natural cycles. We are creatures. In part.
I am alone but not lonely. I observed to a friend that my loneliness is a form of anxiety. (I have had time to really turn this over on Ravenrock.) When it comes up now, I find something soothing to do—read a comfy novel, watch a pleasant movie. I relax and the loneliness passes. In the past, when I felt lonely I sought people, anyone, and often those people were difficult for me, increasing rather than allaying my anxiety. I'd have to run off to be alone, feeling lonelier than ever because I didn't understand that I was anxious and needed to relax. At Ravenrock, with so many hours of solitude, I have had time to take more deep breaths, to observe my internal discomforts, name them and relax. I am not much riddled with overwhelming, terrifying knots of personality. And I rarely feel lonely. I have a lot of friends here. All the little creatures. All the singing wind. All the air. All the light.
I wonder about your loneliness. Do you feel it? What is there?

Thank you for joining me in this great adventure and for sharing my blog with your friends.
Not getting weekly notifications? Email me with 'blog list' in the subject line:
dervish@dancemeditation.org