Warm in the Storm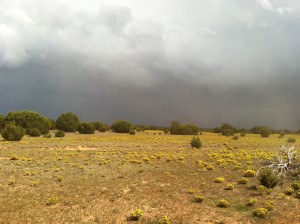 Mid-September. The cold front arrived as promised with a heavy blanket of cloud and sharp rainy winds out of the northwest. I curled under cozy covers all night, intermittently sleeping soundly, but often awake, eyes closed, listening to the wind and rain, safe and warm. Snug in a storm.This is one of the keenest pleasures I've ever known.
Making shelter snug is a worthy striving. Stock it with food and firewood, the boots set just so by the door, water in the kettle, propane in a tank, candles all trimmed, clean clothes laundered on the deck on a sunny day are folded in their trunk ready to to be snuggled into, the hat and gloves and down vest handy. All these preparations allow the first cold day to unfold smoothly in the midst of the storm. Now coziness is enlivened by the wild energy teaming outside the cabin walls. Turbulent trees and wind and clouds make my quiet interior warmth both more serene, by contrast, and at the same time burnish the peaceful quietude, enhancing and enlarging it until it is more than itself. It is iconic. It carries the full heft of protection. Innerness embraces me, wrapping me in contentment.
Innermost Core & Outer Tumult
This peace in the cabin mirrors the contentment in my inner being. Each has an outer layer that swirls around an inner core. My personality is like the storm churning outside the cabin walls—a layer that weaves with my society, my civilization, while my innermost core of Self weaves with the Beloved, with the Divine. Personality acts as a skin of connection to my humanness and the human world. Awakening on the innermost level of Self opens contentment; intimacy with the Beloved then can radiate through my innermost Self and outward into personality. We can never really change our personality but we can light the innermost self and weave with the Divine, a resonance so vast and omnipresent it dwarfs personal anxieties and pettiness.
Our Darknesses
And then there is another level. As our innermost core wakens, weaving into the Divine, it shines its light into our darknesses. We see our entanglements and destructive compulsions. Now we can come to terms here. Within this training, as we connect to our innermost core, we can find compassion, forgiveness, and quiet acceptance of our foibles. These are defused but never erased. We have to live with who we have been and what we have done, good or bad, but we are not the sum of those actions. They are stories in which we have played a part. (We would be doomed to keep playing if we couldn't see our actions and engage in our transformation.) In the Sufi way, when we choose self-knowledge, we are not fixing ourselves or becoming more perfect, but instead we open our innermost core to the flow of One-ness, learn who we are and humbly let that One-ness alchemize us.
We do have to choose this, seek it, labor for it. Listen and listen until we hear its omnipresence. We have to grow new ears, noses, limbs, fingerpads to hear it, smell, see, feel it, and be moved in this One.

Thank you for joining this great adventure and for sharing this with friends.
Not getting weekly blog notifications? Email me with 'blog list' in the subject line:
dervish@dancemeditation.org