The Papercrete Post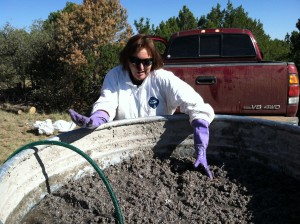 What is Papercrete?
It is cement made from water, paper and Portland cement. When dry it is beautiful, practical, hardy, low-cost, green and, though hard work to mix and pour, not rocket science. Its attributes: highly insulative, lightweight, animal-proof, fire resistant (you cannot light it with a blow torch!), and waterproof.
What's the Mixture?
We fill the mixer ¾ full of water on top of in 84 pounds of cellulose insulation and let it soak. Right before we mix it, we add a 94 pound sack of Portland cement. The cellulose is in four not-too-big large bales. The cement is in one very heavy single sack. Then, we tow the mixer behind the truck for about ten minutes at 7 to 10 miles per hour.
What about that Mixer?
We had to make our own mixer because you can't buy one. Si made mine. We got a rear wheel axle from a junk yard with the drive in place. Also tires. He welded the frame together, placed a sheet of plywood on top with a hole for the differential to poke through, cut a hole in large steel feed bin, placed the bin over the differential on top of the plywood, sealed it, then added a lawnmower blade, put a plywood lid on top, and voila!, we have what is basically a huge blender. Because the mixer has no engine, you tow it behind your vehicle.
What's a Pour?
We put forms up between the posts inside the barn which are ten feet part. The forms are well-supported sheets of heavy plywood about three feet high.
We pour the papercrete mixture into these forms, let them sit for three to four days, then remove the forms.
The walls are damp but solid. The form can then be moved up and the next layer of wall poured. Over the next month the walls dry and harden. The final result has a beautiful earthy look with the resilience and warmth of wood but a rough, stony textural look.

Thank you for joining this great adventure and for sharing this with friends.
Not getting weekly blog notifications? Email me with 'blog list' in the subject line:
dervish@dancemeditation.org