Fall 2012 Ravenrock Update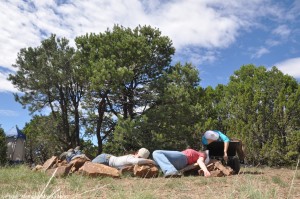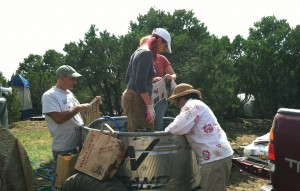 Work Weekend in August
A fantastic work team—Krys Statho, Ric Miccio, Iscah Paquin, Nathalie Molina, and Karleen Koen—came up the weekend following Summer Movement Monastery to help. Ravenrock is a construction site—messy. The Work Team was fabulously high spirited, hard-working, appreciative, and game. They hauled rocks, mixed and poured papercrete, shoveled colleeche into ruts in the access road—all heavy, dusty jobs but these are the basics at this point.
They camped in tents beside the barn and had pretty rough facilities that included a single solar shower bag for four people (Ric was a my cabin with me and my one shower bag) in a nice little shower tent, and a table with a Coleman stove, bottled drinking water as well as rain water from the catchment tanks for washing. Rough digs, for sure. I'm glad Si and Will, his assistant, finished the deck (mostly) so we had a hanging out area to rest and be out of the hot sun.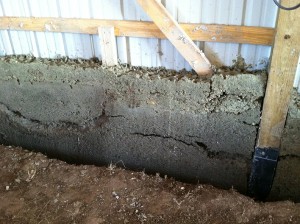 Papercrete in the Rough
On the work weekend, the papercrete process was not exactly smooth. We ripped and tore and pummeled cardboard and newspaper, but it didn't always soak thoroughly or mix up well. That, plus not pressing the mixture down with 2X4 (as if one were plunging a blocked toilet) into the wall forms resulted in some major cracks when the forms were removed.
These then had to be patched later. They are fine now, and look beautifully geological which suits this area.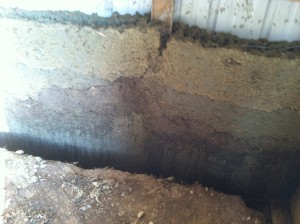 Papercrete Refined
Dee Ritchie came to visit in mid-September ready to work. By this time Si, Will & I had the mix and pour process well in hand. Instead of newspaper and cardboard, we purchase bales of cellulose insulation (it is fairly low cost) which is shredded, recycled paper. This soaks up immediately and makes a smooth, goopy mix with little effort. Ric engineered a good soaking process and added bolts to the mixer's top lid to keep the papercrete from 'boiling over' as we drive it around to mix it. During Dee's visit we had our first 3-pour day! The walls came out perfectly and the process was not nearly as arduous as in August.Trial and error. Now we finally have a good process to get the exact right mix.
Before Winter
The guys and I are busy staying 'ahead of the weather', as Si puts it. We need to pour papercrete as fast as we can because, even here in this desert, each poured segment takes at least a month to fully dry. Freezing temperatures will weaken or crack walls as they dry.
Goals
Before freeze:
•    Complete the perimeter foundation walls in the Barn—we are just about done—extending one foot below grade on a gravel bed to two feet above grade. This will seal the Barn floor from borrowing animals.
•    Complete the Winter Room adjacent to Barn beside the porch. Pour all its walls; frame three doors (one into the Barn and two exterior) and four windows; lay a sand/dirt/papercrete mix floor for ⅔ of the area and a stone for the other third; install a wood stove & chimney; install gray water outlet. This allows me to be at Ravenrock in the cold season and continue to work on aspects of the property except papercrete pours. Thankfully its is a small room so the long list seems doable.
After freeze:
•    Cut bowers for tenting. I love what Si has been doing with the chainsaw for the trees right around the barn. We want these to be tall shade trees and so have removed lower limbs. With bowers we will remove only the low limbs that face inside a bower to make protected spots for tenting.
•    Do Interior finish work. (Ie, grouting between stones, sanding, painting, etc.)

Thank you for joining this great adventure and for sharing this with friends.
Not getting weekly blog notifications? Email me with 'blog list' in the subject line:
dervish@dancemeditation.org