The Importance of Women Spiritual Teachers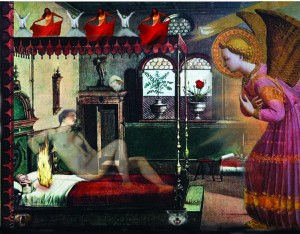 I wish the role of woman spiritual teacher (or leader as some consider me) was rahrah and shiny, but it is riddled with the same old humiliations that don't contribute to personal humility but rather to a wrong that needs to be righted. I was reminded of this on the final morning of the SAT Conference when I was the only teacher not publicly acknowledged and thanked, and the only woman teacher. To be fair, I was profusely thanked by everyone in private, so I know I was appreciated, but this was not public acknowledgement. And the distinction is crucial. Private is not public, yes? Private is a whisper in your ear that you deserve the house. Public is a signature on a document that says you own the house. I don't, for my personal ego, need the world's approval. I really don't, but respect and acknowledgment due to women spiritual leaders and teachers needs to be stood up for. It is a political action. It is still too easy to dismiss or ignore women.
First, money:

When women aren't acknowledged and respected, we aren't paid as much, (and in money-grubbing America the reverse is certainly true—less money, less respect) and when we aren't paid as much we have less freedom of the ordinary sort. To live and breathe. To chant and meditate. To feel. To think. To be creative. Money gives us independence to pursue our spiritual path. Spiritual path has never been without the little practicalities of housekeeping. Acknowledgement and money and freedom. That is the grounded part.
Second, archetype:

The point of having women spiritual leaders as an archetype is to frame, within the collective consciousness, the idea of women's spiritual authority. Women can author spirituality, and that spirituality is legitimate. The archetype sculpts the internal right to regard our sense of spiritual self as real. This subtle point can be hard won for women, often escaping them entirely. Every evanescent template is shaped by the bodies we occupy and half of us occupy a female body. When the world's iconography of women does not include, in real terms, female leadership, women have a blank space in their internal array, or worse, a hole in the reflection of their core self. Having women spiritual leaders makes women's spirituality real.
How do women teachers garner respect? It's a long, hard row to hoe. We have a habit of viewing women in authority as our mothers partly because it is a well-established icon. (No wonder older women who aren't our mothers bristle when shunted into this delusion.) When I was a young woman there were fewer role models to emulate. I chose 'dancer' in part because the role models were so wonderful—Margot Fonteyn, Martha Graham, Ruth St. Denis—women who had artistic and physical freedom. I also had the Women's Movement at my back proclaiming that we could be anything we wanted to be. As time progresses, however, and my path becomes clearer, I feel the paucity of role models. There are very few women Sufi Masters before 20th century America. (Are there really any? And don't trot out the almost-one-and-only Rabia who was an ascetic who smacked down her big boy contemporaries. Tokenism.) Where do I turn for that affirmation as my Path protracts? These later stages on the Path have few women beacons. Of course I have wonderful interlocutors, but this piece is about the lack of cultural affirmation and the need to act in the court of culture as well as within the court of the self.
Everyone's life is political action, large or small. We make choices. Our actions display our ethics. The public bow of respect and appreciation makes a rightness real.

Thank you for reading.
To get weekly blog notifications, please put 'blog list' in the subject line:
dervish@dancemeditation.org