SAT Conference, Colombia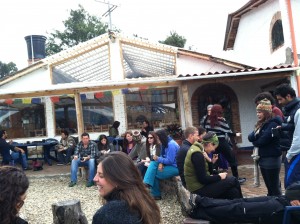 I arrived in Bogota Airport, a run-down, monster airport. This is a big city and not an American one. Disorder and dirt abounded, and not speaking Spanish was a handicap. It's not true that everyone everywhere speaks English. Finally, after an uneasy hour and a half, I connected with my promised driver, a man holding a piece of paper with my name and the conference name on it, which would have to suffice in terms of trust. I got in a shiny black SUV and we muscled through the snarl of rush hour Holy Week traffic. At length, as it got dark, we descended into a gated garage, then up a locked elevator that opened into a luxury, austere penthouse living room. There awaited the welcome hug of friend and translator, Cynthia Merchant, the end of uncertainty, and the beginning of a week-long adventure that has given me faith in the depth of my direction again.
We didn't stay in Bogota but immediately left for a farm in the mountains outside the city. After a twelve hour airport saga, another hour in a car wasn't my first choice but off we went, winding up and up. We passed through rustic stone gates. Here was a charming casita. A dinner. A bed. I slept deeply.
I was there for the SAT Conference. SAT is an acronym for 'Seeker After Truth', a classic Sufi moniker, but introduces larger idea of Path. "The reason for following a Path is to develop Existential Competence, " said Dr. Claudio Naranja, the director of the conference. Eighty men and women, mostly from Colombia and Mexico, gathered to work with Claudio. (Here is a thumbnail bio: Claudio Naranja, MD, renowned Chilean psychiatrist, writer, teacher, and internationally sought-after public speaker, is considered a pioneer for his experiential and theoretical work as an integrator of psychotherapy and the spiritual traditions.) This group has been journeying together under Claudio's aegis for the past four years.
In the morning, rooster crows were drowned out by a loud siren whine of peacocks. Horses (there were 27 on the ranch) cavorted in the lush green pasture outside my bedroom window. They do the most wonderful dance — passofino and other stepping — that is like a flamenco dancer. They also loll lying down. There were lovely goats and a quartet of mellow German Shepherds that leaned like guardians against the outside of the workroom door, making it hard to get in and out. Breakfast was thin, unsweetened hot chocolate to which you add your own milk and honey or sugar, or excellent Colombian coffee, papaya, banana, a very mild fresh white cheese, a bit like tofu, and huevos.  Then off to the morning session.
Each day began with four hours with Claudio and the group. After lunch, they had two hours with me, followed by two hours in Shamanic practice with Jorge Llano, a later dinner, and an evening practice that varied. An uncanny harmony emerged immediately, as if we three teachers had a coordinated syllabus. Of course we didn't. Jorge doesn't speak English well and I have no Spanish. Claudio speaks everything quite well. But language was not what made our worlds flow. The field of connection was opened and kept open by each teacher and we each picked the day's progression like ripe fruit out of the intuitive air.
I taught Whirling and exercises including Breath Dance and Rocking Array and some Ornamental Motion. It was dreamy and deep and solid. A whole room of people new to me who were intelligent, solidly intentioned, capable and open was uplifting. In a flash, any whiff of having to defend the value of doing movement meditation disappeared. I wasn't wading through anxiety that can block participants from reaching in deeply; and I didn't have to fight a haze of dissociative scattered-ness that typically plagues Americans. Everyone knew why they were at this conference. They trusted me. They trusted themselves. There is nothing more precious.
In the next posts I will include a few tidbits from Claudio's talks and why they stay with me. As well, I'll write about the buoyant camaraderie that emerged amongst Bettina and Katrin, both from Germany, Cynthia (all three are psychotherapists) and myself. Las cuatro chicas. Having time in intelligent, loving company discussing shared values deliciously affirms dharma.
I wish there was a way to convey the energy. I came away from the week knowing that my mind can come into my spiritual flow, and that it isn't a separate energy. Words are a movement, a form of dance like lifting an arm. Deep states can be shaped by mind as well as by body, something that, just a few weeks ago, I'd been so certain was not possible. How interesting that Path takes our certainties and rips them to shreds.


Thanks for reading. (And please feel free to correct my Spanish.) ~
To get weekly blog notifications, please put 'blog list' in the subject line:
dervish@dancemeditation.org