On a Cold Cold Day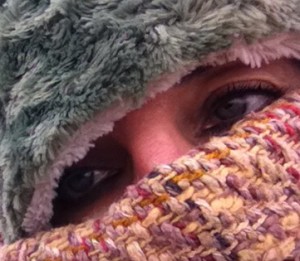 I was interested that in a feeling-sense, this sherpa/burka 'reference' was so cozy on a cold cold day. The bundling was needed protection. Looking at the photo later I recall the sensuous colors of the bumpy, fleecy texture being full of warm puffs air. I like the contrast with the smooth shiny eye surface.
The eyes peer out from darkness while the bridge of the nose catches light. I like the aperture slanting up while the gaze slants not just down but outward from the flat canvas. It all somehow evokes happiness.
Protection and vista.
What evokes happiness for you? In your body, in your mind, in your heart?