Morning Tea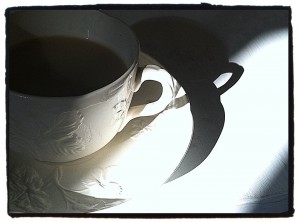 My friend Anastasia Kaser, who lives in the Bay Area, sent me this cup as a Christmas gift. She has its match. The salt-washed China cups belonged to her mother so I feel like her sister. Many mornings we sit bicoastally (I am NYC) in our own time, in our own worlds yet connected by our twin cups as we partake of our morning cuppa.
I think of her deciding to part with these precious items, wrapping them so they won't break, carrying the package to the post office. Those actions are in the cup and saucer. It feels different than buying a lovely antique in a curio shop or purchasing one on eBay where the origins are fuzzy or thoroughly unknown. I feel her 'handing' it to me, alive with considered generosity across wide space. A lot of chi with my chai.
Tea history: In 1610, Dutch East India Company market tea as an exotic medicinal drink, but it's so expensive only the aristocracy can afford the tea and its serving pieces.