Raverock Barn Water Catchment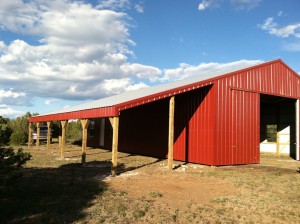 Ric and I drove around to the Bill Pyles'–Volunteer Fire Chief– house in tiny Romeroville to purchase a second 1600 gallon cistern. (We already had one lurking near the barn.) It was too big too strap to our truck so Jamie hauled it the following evening once again through mud. He is good at mud driving.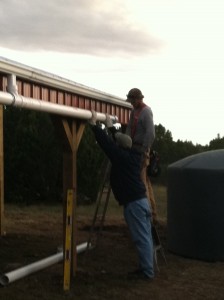 According to Bill, who knows the formula, our capacious roof should be able to collect 800 gallons of water from one inch of rain or ten inches of snow melt. Terrific!  My goal has been to get the catchment in place before the winter snow in the hope of harvesting enough snow melt and rain to provide for the coming needs of earth floor construction and possibly a portion of summer retreat next year.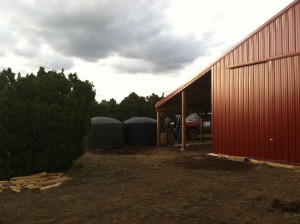 Ric and Jamie had two hours to get a large PVC  pipe, mounted below the gutter for the gutter to drain into, as well as the fittings onto the cistern before the sun set. They worked steadily as the light dropped lower and lower.