Barn Raising: Day #4
The barn looks like a barn. Tim makes the frames for doors and windows.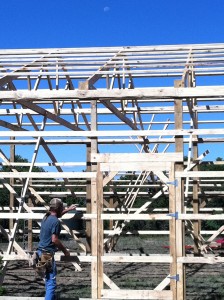 All the wood is there. I love how you can't see the barn until you are almost upon it, yet it has that lovely and inspiring view of Hermit's Peak. Yay ravens!
This is for me the first major endeavor where the ideas and actions remain. As a dancer, all my work disappears—a performance that I prepare three months for is over in twenty minutes. The same with dances that I choreograph on others. My memoir was better. It lingers as do videos, but both of these are projects that are consumed rather quickly by others and which once I've completed them, I rarely look into afterward. The barn however is there. I will be going in and out. I see it again and again as I walk the winding dusty track between the pinions. I think back to the moment when the ravens revealed that spot and think how in just a few days, the Wilson crew is evolving the insubstantial into substantial. Not six months, or a year or two years. No. It is happening before my eyes. Like a pre-digital photographs in a dark room. The edges sharpening, the form filling, timbers, metal sheets coalescing into a barn!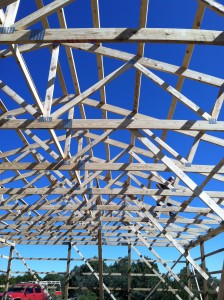 A seed that has found ground and does not blow away…
I watch them continue steadily on. Very zen-like without any zen to their self-concept. Tim leans intently over the saw horses to trim a piece of 2X4 for a window frame. Every frame he has made fits perfectly. He didn't finish high school. Never saw the need. None of the three have much use for college—didn't go themselves and can't see how it would have made much difference to their lives. If their kids want to go, they shrug, its up to them. On day #4, I hear more detail about their lives and opinions as they chug down orange soda (Tim), 7-Up (Juany), and Coke (Steve).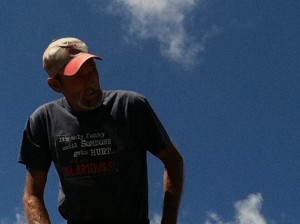 Steve has been married twice. He is wise. He has gentle sotto voce advice for impetuous young Juany, who, at 29 , knows it all: is so decisive, his wife spends all his money!, she wants him to make more money but she wants him home. Juany wants to get home soon cause he loves his little girl who misses him, she wants her daddy.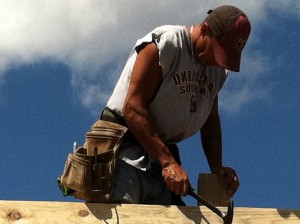 Yes, he loves his wife BUT… And there is always the "I love my wife, but," in every break-time effusion. Steve listens, off-hand, dropping a bit of succinct, calm advice here and there which is mostly ignored.