Barn Raising: Day #3
A dramatic day. I watched in awe for an hour as the guys erected the rafters. First, the pre-fabbed trusses were laid on the ground inside the barn parameters below where each would be hoisted aloft. Tim climbed up to one south-most corner, and Steve to the other corner. They perched 12 feet up, like gargoyles, chatting while Juany tromped below getting things ready. He threw one end of a rope up to Steve and attached the other end to the first truss lying on the ground. Steve hauled the truss as far up as he could, then Juany lifted as Steve continued to pull until his end was up and leaning on a top brace.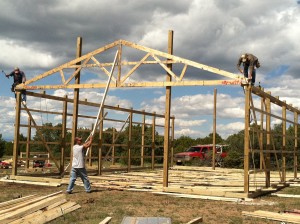 Then Juany to the other side where Tim hauled up. Now the truss hung upside down, its 'v' pointing to the ground with its wide edges at the top corner of each wall. Juany then nailed a 2×4 to the tip of the truss pitch and, on a teamwork "Go", swung the point upward to vertical, bracing it from the ground while Steve and Tim nailed their sides in. There was a bit of nailing to do along the face of this truss and some pitch boards to secure it. Steve and Tim, relaxed, poised acrobats, danced and balanced beautifully on those top beams. Juany had the grunt work below as they continued in sequence down the line until they had all ten trusses up.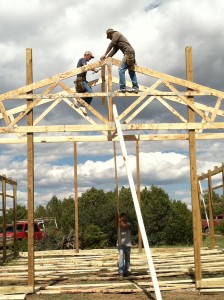 I was totally enthralled. Smooth, experienced, elegant. they worked quietly, just the sound of hammers striking the wood. No nailguns, no power drills. I felt their energy going into the nails, into the boards, into the large, sturdy poles. This is a human barn made by men who are seasoned artists. Now I understand Steve's impeccable posture. In perfect balance, he trots around on the roof beams, sure-footed as a high rope walker.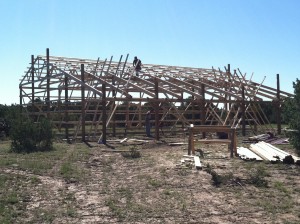 By the end of the afternoon, the barn's bones were there. I can now see the entire skeleton and have only to fuss in my dreams over where the doors and windows should be placed.
I couldn't focus on anything else much today. Excited, I ran back and forth from cabin to barn site, called or emailed a bit here and there. A dream is coming true.