Dancemeditation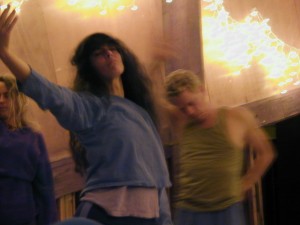 Dancemeditation™ is a unique, integrated, embodied meditation system for self-discovery, healing, & evolution. Through the cultivation of embodied awareness and present-ness, we explore relationships between self-&-other, self-&-cosmos, self-with-Self, and self-to-the Divine Eternal, and ultimately dissolve relationship into non-duality, into One-ness. Dancemeditation™ links you to the deepest roots of human quest for spiritual understanding and Truth.
Dancemeditation™ proposes that your body is spiritual intelligence. Training focuses on listening to the body with curiosity and respect.  The practices develop trust and adeptness in this receptive process.
less physical, emotional, & mental anxiety
deep relaxation
abundant creativity
improved immune function
renewed vigor & inspiration
access to intuition
a clear mind, a peaceful heart
personal & spiritual transformation
a happy body
Roots
Dancemeditation™ synthesizes three large bodies of work: Art, Somatics, and Dervish mysticism. The materials resourced provide doorways and ignition points to embodied awakening and growth. We use a wide variety of breathing and movement techniques (see Basic Practices for a few examples) within a primarily non-verbal study environment to help us drop out of an over-active, distracted mind into intuitive embodiment. Inner & outer witnessing are balanced.
Who is Dancemeditation For?
This Path calls to women and men seeking self-knowledge, healing, and growth through the deep truth of the body. More
Moving from the center of Center, opening the subtlety beneath the Apparent, we feel a sense of Belonging. We come to a quiet mind and an awake heart. Here is spiritual clarity.
–Dunya Dianne McPherson, Founder
Dancemeditation™ is a program of the Dervish Society of America (DSA), a nonprofit 501-C3 organization dedicated to the Path of embodied mysticism. DSA provides opportunities for personal development, exploratory inquiry into embodied spirituality, and community connection through practice, service, and performance. Donations are tax-deductible.