Sheer: a Practice Session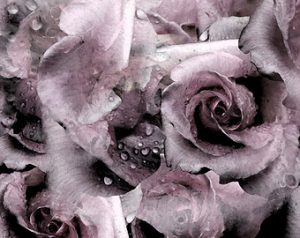 My practice yesterday evening…
The sun had just set. Outside, a frigid wind pummeled the house. Inside, I danced for 40 minutes then lay down under a pile of sheepskins while dance tracks—Sheesha Lounge—bounced softly around. Out of nowhere, a casual, offhand invitation arose for one of my most significant sexual partners (why was he still lingering in me?) to leave my body. Then a sequence of invitations—please, I invite you to leave words came on their own yet from me to what was, apparently, in me. Long-term boyfriends, one night stands, two ex-husbands, and finally, after a bit of coaxing, abusive partners. Each went in a faint puff of the relationship's predominant tone. One by one by one by one…I had to be patient with this ceremonial retinue of fleshy intimacies. The occupying armies departing after many years. Then a large sigh rose and fell.
The music played. I was in stillness, my eyes closed, alert, not sleepy. A long sequence of beings and being-nesses came to stroke and move and whisper over and into my body. There was a waxiness to them, something pale. Benevolent. Gentle healers, perhaps. They whispered to one another, touching my surgical sites–hips, right ovary–then moving within the pelvic bowl tossing out shadows and heaviness, gluey-ness and globs. They grazed the bones of my neck under my throat, roamed briefly beneath my sternum, ran long strokes down my legs.
They left.

The Sheer
The music played. My body felt easy and even. In a while, movement so tiny I barely knew it had begun was here and there and everywhere, all through me, my body moved by the music, my body having a lovely time. I didn't have to dance. She danced for me. So sweet. Under warm sheepskins in a dark sanctum, the inner raptures weren't in the shape of swells and cadences, or ocean waves, earthquakes, or blades of light. This and they were more akin to the fragrance of rose and a lingering echo in a vast cathedral. This and they are what lives in spaces between.
I never fell asleep. I never entered a deep state. Upon reflection, I wonder about this world I've journeyed into, which I can recall afterward, which is not an altered state but rather an extremely refined perception. An electron microscopic perception of existence within sensoriality. The Sheer—that's what I'll call it for now, the Sheer. My day-to-day life is not separate or lofty or profound, yet also I'm not surprised with the magic standing beside me when I let go of all that I create and just receive. Many wonderful and mysterious Sufi ideas point beyond thought and have touched my brain, yet somehow not been part of this personal savor. Well, sometimes, perhaps Niffari. What I discover is not how mystics say it is. Not how it is said it is. Not the framing of it. Rather I come into it… have been in it all along though never there before.
____________________________________________________________________________

I am delighted that you are with me and appreciate your sharing these writings friends. Thank you!
My work and writing are sponsored by Dervish Society of America (DSA), a nonprofit 501-C3 organization dedicated to the Path of embodied mysticism. DSA provides opportunities for personal development, exploratory inquiry into embodied spirituality, and community connection through practice, service, and performance. DONATIONS are tax-deductible.