The End Days
by Dunya on February 14, 2016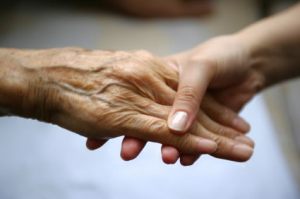 Mary, our hospice nurse/counsellor, helps me feel tranquil about this period with my mother who is in a soft decline. Mom is fragile and may be swept off by a flu or cough or fall from which she cannot recover, or she may hover for months. She will probably sleep more more and then one day not wake. We cannot know. At Christmas, she fell twice and we thought that might be it. She fractured first her low back then her shoulder, was in the ER, came back to the AL in pain on Oxy. Her otherwise ready smile was replaced by plaintive glances. She no longer has words. She whispers a fragment here and there, and mouths a few unintelligible bits. I try to remember the last time she said anything out loud. She can form 'no' with her lips when offered a sip of juice or a bit of mashed potato and I am relieved to not guess about this one mouthful. With hospice' careful guidance, she pulled back from pain, rallied at least to the point of comfort, and now we have a golden time.

Invitation
Mary helped me feel that Mom's dying is lovely. She invited me to enjoy it which I am very ready to do. I am not riddled with fear of my own death. Yes, my mother is treading this before me and I do ruminate on my own end, but what most forcibly strikes me is that I have stumbled upon a little-known landscape. A gleaming tundra.
Mom and I keep company in a rich hum of love. We can't go back, and we don't. She has dispensed with unnecessary interactions, her deteriorating brain leveling the violent topography of personal clashes and clutches. I remember my friend, Kathy H., telling me that at the end of her mother's life all melted into love. I thought she meant that each, or both of them, had triumphed over past resentments, as if they were in the same frame as two midlife adults in therapy effortfully resolving their knotted relationship. But now I know she did not mean that. She alluded to a new connection devoid of past exigencies of a mother being responsible for her child, a child rebelling against a mother, and all the recriminations. She was talking about two humans entwined, one made from the other's flesh—the most primordial resonance—together in their animal being-ness.
Kiss
Sitting with Mom, the confusions of personality dwindle and blip. She lights up. She relaxes. She glows. We hold hands. Our eyes flow into one another. When I lie next to her on the bed and wrap my arm around her soft belly, I feel a light tremulous breath on my hair, her kiss. I stroke her arm, her cheek. She smiles. There is no end to her smiles. Often, time together feels placid. Then there are days the room thickens like air before thunder with the murmur of giant love. Minutes tick by. My heart beats and fills and saturates and I have to leave because I can't take in more. After, at home, I rest on the sofa, unable to sleep, unable to cry, unable to do anything while the honey seeps from my sternum into my flesh.
Losing Mom is slower than Dad. I was busy feeding Dad, washing him, lifting him, cleaning up after him, managing the care system and the medical system and the funeral system and the IRS and friends and family. It was nearly as breathless as a chase scene in a thriller with little time for the two of us to just be together on the gleaning tundra. But it was good. It does help me appreciate the slower, gentler time with my mother.

Particular Field
The End Days are a particular field. That's what I'm saying. The early time of infanthood is recognized not only for how many skills the infant must learn—the acquisition of ADLs—but also its acclamation to incarnation. It is a period in human life that is culturally revered and well articulated. The End Days are less revered and articulated. Culture focuses on illness and decrepitude—the uneven stuttering stumbling with which we humans reach our last breath. What about those other strong silky threads of incarnation? What is happening to the electrical interweave, and crossings of sheer, strategic spidery webbings, and the halls of whispers? Whatever world it is, that is where I am with my mother. Many of us are given this with someone—a child, a parent, a sibling, a friend. This sequestered glade is difficult to share with those not in it. It is tender. It is poetry. It has no commerce or bargaining.
Where are the words brimming with the fullness that is the opposite of incarnating? 'Dying' and 'death' are heavy with narcissism. Someone we love leaves. They have been smelly, difficult, caused us to interrupt our projects, then they abandon us. We are bereft. We feel absence. Our lives are a shambles. In language, we have flattened this final natural rich juncture to a single beat, the slog to the one final beat. As the other dies, we dislike staying a relationship with somebody who will be absent. We prepare to summarize who they were, jeopardizing who they still are, and what may be the greatest of what they are. I don't care about well-crafted afterlife myths, and I don't care about where she went to high school or what colors she liked to wear. Mom's end life is alive. The mystery of end time—the months before the final beat, the body disembarking and the golden love rising from the transformed shreds of personality and identity—bursts me open.
We spend too much time and energy fussing with society and not enough time and energy in the purity of existing. My mother and I step outside onto the gleaming tundra, in the newly falling snow, in the time of great purity, the most alive experience of our lives.
_______________________________________________________________________________

I am delighted that you are with me and appreciate your sharing these writings friends. Thank you!
My work and writing are sponsored by Dervish Society of America (DSA), a nonprofit 501-C3 organization dedicated to the Path of embodied mysticism. DSA provides opportunities for personal development, exploratory inquiry into embodied spirituality, and community connection through practice, service, and performance. DONATIONS are tax-deductible.