Ravenrock Notes 2015 Week 2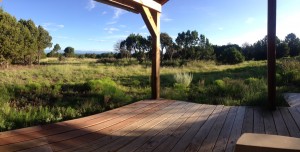 Grieving
A storm grumbles in the distance, plodding slowly across the canyon from behind the mountains. A wood pewee sings over and over and over again a clear plangent descending note. Sitting in the Ravenrock Barn, I grieve both parents. Until now, I haven't had time, energy, or distance to grieve, my hip surgeries coming so soon after my father's death. (My mother, still alive at an Assisted Living, seems permanently away at college, living in a dorm, having a happy life with not only no thoughts of me but no thoughts at all.) Here, where nothing but a few inherited rugs and pieces of china are associated with my past, I can look as one gazes at a valley from a summit, no longer seeing it from within in myopic fragments.

My father's death was not only the end of our relationship, but the end of life with my parents which, in the last beautiful decade summering with them in Maine, was a sort of heaven on Earth. On Chebeague Island, I camped for six weeks in the little studio by the beach, trudged uphill midday to the Yellow House to converse over tea or coffee or sandwiches with my parents on the porch overlooking Casco Bay, while ferries and kayaks zipped across blue water, or ruffled water, or white capped water. I helped Mom prepare dinner, attended cocktail gatherings with whoever was staying at the adjacent Brown House, went to hear evening concerts of Schumann or Mozart by musicians clad in elegant black evening clothes who had taken the ferry over to transport us. I grieve the passing of our leisurely, loving companionship.

The Bunny
The bunny arrives almost as a gentle sympathy. It nibbles then moves a few paces. It stretches out and rolls onto its back, squirms in the dirt then swiftly rights itself and glances around. Doing-then-checking. That's its way. It resumes squirming on the back, the morning bath or just a good scratch. It points its tiny nose then grasps a blade of grass and tugs. Once in a while it points its nose up to the sky for a sniff, a whiff. Suddenly it stops. Hops backwards. Quivers. But then, everything is okay after all and it continues to graze. If my Dad were here he'd say, "What does the bunny think about? Does it do this all day long?"
The Storm
Early afternoon and a heavy storm arrives. A few mighty cracks, a grumble, a growl, pounding on the roof, and the sky closes gray curtains around the my guardian circle of junipers. The greens deepen, the tree trunks darken to charcoal as the sky hurls pebbles of hail on the metal roof. Thunder scars the air. The grasses bow and bob. I wrap a scarf around my neck as the air cools and cools and swaddles my ankles in blue chill. The booming passes. In come the soft surging sprays of rain. An easing, a relenting. In the lull, a single dusky birds flits to a more protected spot.
Late afternoon and the wood pewee continues its lament. In the meanwhile, I've slowly done my gentle routine of stretches and motions. My legs now sparkle, though their abilities are modest in the spectrum of their life. The rain has ameliorated my grief, not rinsed it away from me but into me, spreading, watering the garden.
________________________________________________________________________

I am delighted that you are with me and appreciate your sharing these writings friends. Thank you!
My work and writing are sponsored by Dervish Society of America (DSA), a nonprofit 501-C3 organization dedicated to the Path of embodied mysticism. DSA provides opportunities for personal development, exploratory inquiry into embodied spirituality, and community connection through practice, service, and performance. DONATIONS are tax-deductible.