Time for Prayers
by Dunya on November 24, 2013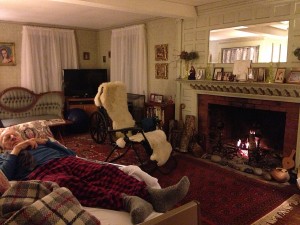 From writings about helping my father as he completes his life.
He doesn't decline uniformly like an orchestra on a river boat, the sound floating away and away. He declines in small bits. When was the last time he woke bright-eyed with the life-long look of himself filling his face, stand with grace to full height, and walk in solid, small, careful sailor steps to the mantlepiece to let his fingers savor the smooth wood? Two weeks now…He was remembering, enjoying. I didn't realize that the last time he did that would be the last time he could do that.
Early October, now late November. The season passes outside our still-point window. Inside, I've watched the tweed jacket, white button shirt, and zippered khaki trousers be replaced by cheerful, easy off and on (this has mattered more and more as he could help less and less) plaid polartech pajama bottoms and knit polo shirts which were daily dribbled on and peed on and daily tossed in the washer and dryer.
I've watched meal trays with small portions whittle down to baby food spooned in during shorter and fewer windows of wakefulness. I've watched him fall asleep or close his lips after two mouthfuls. I held my breath. Will he swallow? Yes. Okay. It doesn't matter that he swallow, just that he not choke.

A dear friend remarked that my father's and my relationship must have changed radically during this caregiving. No. It is the same, but deeper and filled out. The painter finishing the painting. Yes, I do different things to help him, but the trust and connection and love, though magnified, are much the same. (A tribute to therapy and getting through individuation in early adulthood when gripes are hot and heavy.) And now I realize ideas like 'karma school' with the implication of arduousness and punishment don't apply here. Yes, this is learning, but it is learning the way eating a delicious food for the first time is learning.
Dad is the great love of my life. I don't think I am his great love in the human, earthly sense. Not sure who is. His mother? My mother? But I know that at this time all the love he has for me, which is plenty enough for me, flows abundantly. I feel bathed and nourished. The room often fills with wudad—the self-sustaining love of the universe. The affection and simpatico we've always enjoyed has blossomed from a charming little shrub into a massive garden of roses and trumpet vines, apples and plums and apricots, freesia, myrtle, moss and lavender, rosemary and thyme. Here every butterfly lights, every bee and moth visits, a choir of wood lark, nightingale, ravens, titmice sing. We lie on the flank of the warm lion holding hands watching clouds pass above us.
Together, we are guided and held, protected and awake. At least today.

St. Columba's prayer rings in my bones.
Be a bright flame before me, O Divine Beloved,
a guiding star above me.
Be a smooth path below me,
a kindly shepherd behind me
today, tonight, and for ever.
When he departs this Earth, I don't know if I will lose my companion to the Beyond, be left behind, bereft of this kind company. And no one knows. No one can tell me, because this is just me and my father, and this is the first and only time we will ever do this.
Now the second part of the prayer bubbles up…
Alone with none but you, my Beloved Divine
I journey on my way;
what need I fear when you are near,
O Author of night and day?
More secure am I within your hand
than if a multitude did round me stand.
I do know that he will be guided and held, protected and awake. And I will be guided and held, protected and awake.

Thanks for reading and for sharing this with friends.
Not getting weekly blog notifications? Email me with 'blog list' in the subject line:
dervish@dancemeditation.org