Dragonfly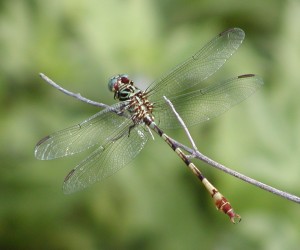 From writings about helping my father as he completes his life.
I am a Dragonfly
I have no waking moment I am not watching Dad, helping him, but I have found sizable chinks in the fabric of our day to do self-focused movement. This then helps me to do every other physical action as a 'dance'–lifting his legs, washing his hands.
I watched Week 4 of 'Heart & Curves' in bed last night. It lulled me to sleep. Then, this morning, I lay on the floor and without watching the video did the whole floor sequence. The simple motion had soaked into me overnight. Then shoulder stand and forward bend, carefully, since my low back is tender. Dad watched and dozed. I no longer have any sympathy for people who complain about not having time for their practice. You can find time. It is a matter of choice. Of love.
I don't have two arms and two legs. I have four wings. From my tailbone I have a dragonfly tail. I'm a dragonfly. A dragon flying.

Three Progressions
The Rugs are Continents
He can't hear, can't speak, can't understand spoken words, can't read, can't write. Can't walk with ease, sometimes barely at all. The hospice nurse encourages me to find every avenue of pleasure still open and abandon what is diminished or difficult. His sight is a superhighway of pleasure as well as function. I pay attention to where in the room his gaze rests. I work the placement of furniture, making small adjustments; the chair facing diagonally toward the fireplace rather than squared off toward the bay window. The covers of the day bed must be smooth and ready. The books on the table should have compositional grace. Every view must be appealing, picturesque. All day long the downstairs floor is an art installation. He once could roam the world–Europe, the seaside, the mountains. Now the rugs are continents. The wood floors, an ocean. He and I are clouds or storms.
Ancient
Today, he is under-the-weather as well as ancient.  I drink my tea. I've given him his morning barrage of antidepressants and antipsychotics. I wait for them to kick in. The dementia is progressing rapidly which means his Mr. Hyde emerges swiftly and fiercely if we try to administer the moderate doses of medication. We reluctantly move toward increasing dosages. We have a choice–dopey Dad or dark, frantic Dad.
Folding
He folds and unfolds a blanket. He asks me to help remove his medium blue pullover wool sweater. Right away he wants it back on again. Then off, then on, again and again. Though the activity at first entertains him, I see that this isn't about comfort; it is perseveration–the repetition of an action with no particular aim, like a loop. It is a fugue state common to dementia. He is uncomfortable no doubt, but this dressing and undressing have no effect on that discomfort and soon these repetitions will devolve into agitation.

How We All Are
Dad's actions seem extreme, but they are no different from how we all are. As I watch him I see in stark relief behavior I've observed in myself and others all my life. We launch into fruitless patterns, fall into addiction or depression or mania. We tangle in irrational,  frenzied, uncentered actions, unable to see our habitual emotional sink holes because we are unwilling or afraid. We cannot see any more than he can. But we could see if we chose, while he no longer can see…
In retreat settings, where we all have fewer appearances behind which to hide, our delusions float to the surface and play themselves out. As we anchor ourselves in the breath, the movement, the chant, we ride through our nicks and ticks. We restrain them from billowing into an inferno–fear of fear, rage at pain, misery at sorrow–and let them unwind. This gradually defuses and smooths them. This is how we do it.

Thanks for reading and for sharing this with friends.
Not getting weekly blog notifications? Email me with 'blog list' in the subject line:
dervish@dancemeditation.org