Caregiving is Detail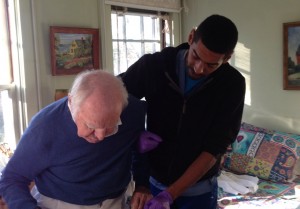 From writings about helping my father as he completes his life.
Caregiving is detail. As detailed, nonverbal, and spatial as dance. Our ace guy is Jermaine Cardoza who comes three or four times a week to give Dad a head to toe sponge bath. Washing 180 pounds of deadweight or rigid body is no easy gig, but Jermaine extends both his hands with ease, gives a one word cue, "Stand," and my father places his hands in Jermaine's. With a wisp of effort, Jermaine leans slightly back and Dad rises out of his chair. No muscling. No grabbing under his armpits to drag him up.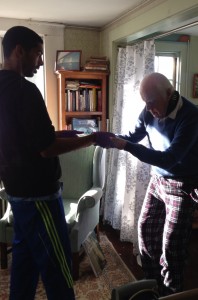 On days when Dad can barely walk, Jermaine manages to lead him like a ballroom dancer, backing up while Dad edges forward with tiny steps. "Just give a tiny tug with your hand," he explains to me, "and wait for the message to reach his body. Then he'll follow." Jermaine's nervous system connects with Dad's. Few words, exact tactile cues.  Dancerly. Beautiful.
I asked Jermaine if he is a good dancer.
"Not too shabby," he grins.
"Have you taken dance classes?"
"A few. I do best copying. I don't like it when they break it down."
A natural dancer, I thought.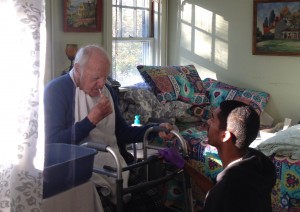 Jermaine squats in front of Dad who sits on the toilet and hands him his toothbrush. Dad puts it in his mouth and starts to chew. Jermaine taps Dad's hand to get his attention, bares his own perfect white teeth and mimes a brushing motion. Dad imitates the brushing gesture badly at first, then his CNS muscle memory activates and years of daily toothbrushing kick in.
Cuing
Jermaine has woken me to cuing solutions. I seek ways to initiate Dad's well-known muscle patterns–get him going rather than doing it for him, so he still has the dignity of doing for himself. For instance, sipping from a cup. Being able to hold the cup, bring it accurately to his mouth, tip it, and let the liquid into his mouth at the right rate is life or death for him now. He sometimes forgets parts of this complex sequence. The same with drinking from a straw. When he resolutely bites the straw, I haven't yet figured out how to cue a sucking action. I know we can move on to chewing on ice shavings. When that time comes.

Pretty Bad
The past two days have been pretty bad. He has been doubled over, playing with his knee, muscles rigid, face grimacing then going slack. This part isn't pretty or touching. Where is Dad? Is he in there? Tiny moments of affection strain to get through a dense mat of perseveration, fidgeting, demented loops–hours of picking at a blanket, yanking the front wheel of the wheelchair, pushing and pulling a small table over to him and away, again and again. He is Kipling's rhinoceros with crumbs inside his skin. His meds have ceased to work or have transmuted away from their original efficacy into their diabolical side effects.
Hospice team leader, Barbara Beltran, RN, reminds me that this is isn't just meds gone manic; his disease is progressing as well. It impossible to control his behavior, difficult to find windows of comfort. She reminds me that this is part of his dying. It is a difficult stage. I thought he would become feeble, but he seems strong, driven. Yes, she says, dementia can rally his strength. He eats less, is awake more, struggles and struggles. I continually watch, and am ready to drop whatever I am reading or writing and assist or catch him as he painstakingly shifts from the wheelchair to the bed nearly careening to the floor. We caregivers dread the floor. Nothing good can come from a fall. He's close enough to death without that mess—hospital, IVs, pneumonia, pain.
Previous posts on my father's twilight:

Thanks for reading and for sharing this with friends.
Not getting weekly blog notifications? Email me with 'blog list' in the subject line:
dervish@dancemeditation.org