Bringing Dad Home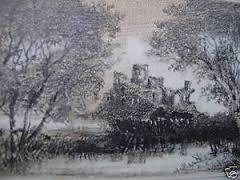 From writings about helping my father as he completes his life.
We arrive home on a perfect autumn day. Dad is excited, wants to see everything, all the rooms, touch the furniture. We walk out back. Two lofty maple trees and languid drapes of honeysuckle and jasmine frame a scrolling hill. We stop to gaze at the view he has always loved. A coywolf arrives between the banks of green on the lower hill. He looks at us. Dad catches his breath, alert and delighted, and gently points. We stand very still watching the coywolf who stands very still watching us. A good omen.

The first two days are topsy turvy. He's on vampire time, exhausted, crumpling down asleep in any chair in his tweed jacket during the day, and thumping back and forth upstairs at night. He quickly uses all the pent up energy accumulated at the nursing home. John, our  fantastic live-in caregiver, my darling Ric, and myself have been on the trot adjusting the house. The baby gate at the top of the stairs is not enough. My brother, David, stops by with his drill to put in a sturdy garden gate. Now the house smells of newly milled pine boards.
Upstairs, downstairs. Getting Dad onto the chairlift is a struggle until he is finally too tired to climb up the stairs on all fours. Our goal is to coax him to live downstairs, and we set up a bed and privy in the music room for that purpose, but he has lived in this house a long time; downstairs is for reading, talking, eating, thinking. Upstairs is for sleeping. We can't alter that pattern just yet.
I squat down and wipe his hands with a warm damp washcloth after lunch. I glance up. He gazes at me. A little smile flicks across his face. A thank you. A bit of happiness. My heart feels large and squishy. Later I lay on the rug to stretch and roll and breathe. He can see me from his chair. He watches. It is like childhood, only then I pranced and tossed my legs up, performing for him, and sometimes felt crowded by his attention. Now I roll and flow on the floor. He enjoys my dancing. I thought he might. Now his watching is companionable. I do my thing, he does his, which is mostly witnessing this world out of which he is gradually slipping.

On the fourth day, it hits him. He has fought for months to be brought home; now we are here, but he still can't talk or understand or read or write. He still confuses objects. He still can't get dressed by himself. Home has not remedied this…Resignation saddens his eyes. I don't know what he thinks because he can't tell me. Don't read into everything I tell myself.
I struggle to get the chairlift seat belt on him. I fumble because he is angled in the chair and can't seem to squiggle straight. He is plopped there as he is, not going to shift, too weak really and not sure exactly where or how to maneuver. I finally manage, but next time I'm going to cue him better as he sits, turn him a bit more before he drops his weight all the way into the chair. Next time I know exactly how to pull the belt all the way out, slip it deftly under his arms before he settles them on his thighs, and snick it locked swiftly so he barely knows it is happening. This is best. To get fussy details out of the way before he has time to puzzle it, to try to want to help, to realize he can't help, to feel bad about his inability — it's best if I get it all done before he goes through all that.

He takes the fork slowly to his mouth. His hand shakes. When the dish is too big, food slithers away from his spoon or fork as he attempts to catch it. If too small, it dives over the edge. He hates this mess.  The most important thing is that the dish be the right size. The edge of the dish curving up a bit helps as well. I hunt in every cabinet and through trial and error come up with a few good choices. He notices this. He relaxes. He focuses on getting smoother with his eating because he knows we are both trying.
I bend down to hug him and kiss him on the cheek. He gives a little chortle of pleasure.
I remind John and Ric not to stare at him, scrutinize him. How would you feel? I watch Dad peripherally. When I look right at him it means we are connecting. We all have to stop talking about him as if he wasn't there. He is fascinating and he probably doesn't know what we are saying, but I think he knows we are discussing him. We have to work on this.

I sit outside with him. He looks at me. He looks with his blue eyes unveiled, his being pooling there. I gaze back. The trees rustle. I put my hand tentatively on his. He turns his hand up to take mine. That soft skin. That frail grasp, but enough to let me know he wants this. We are here for a bit. I don't know who breaks it or if we both shift our eyes at the same time. I feel harmony. I am not figuring it out. I flow with him today.

Thanks for reading and for sharing this with friends.
Not getting weekly blog notifications? Email me with 'blog list' in the subject line:
dervish@dancemeditation.org