Solitude & Laundry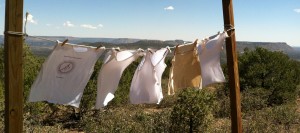 I wrote this in late September at Ravenrock:
Autumn Comes
I walk onto the deck in twilight that feels as if it is hurried along, as if the wind dashes over the crest snapping a whip, urging the light, which gathers birds and butterflies in its graying arms, away from this summer haunt to other regions south of the equator. Yes, it is no longer summer.
I put my empty dinner bowl on the wash table, sluice water into it from the blue pitcher, scrub it, rinse it, casting the water over the deck edge onto stones below. They had no scent; now they release the delicious smell of cool, wet rock. I glance at the canyon view, barely grazing this vista with my eyes, and feel a giddy rush at not having to stop and absorb its grandeur because it is my home. I can sip the view. I'm no more accustomed to it than I was two years ago when I first saw it, but I belong more now. Back then, my inner capacity was cramped, crumpled; I felt too small to be here and the vastness worried me. It has taken time to disentangle my folded interior components—my identity, my habit of self. I am still small but I am part of the mesa. I toss my peach pits and banana peels into the bushes around the cabin. The ravens and birds and bunnies and other creatures, which I rarely see but sense they are around, know that this is my nest. They know my smells, my noises. They keep an eye on me. I have begun to fit in here.
Nature Nourishment
The mesa trains me in how to live. As I wash dishes, or my laundry, the scene moves like wind in me, blowing September light into me. I pretend this is normal, and it is, yet it isn't. The word 'normal' connotes ordinariness. My 'normal' is not ordinary. It is vibrant and shifting and quietly astonishing, wildly alive. Every day, every hour, nature never stays still, never repeats. She continually arranges her palette in uniquely beautiful combinations. I often think that what I am seeing just now is the most beautiful thing I've ever seen, then another extraordinary vision supplants it. Morning sun on my back and cool wind on my face feel just right; later, I walk along the rim in the heat of the day, and a sharp blast off the rock face, blowing my raven friends high into the blue sky, cools me just when I am beginning to sweat. These meetings of temperature, and scent, and light, and creature migration fill the tick of time with entertainment and energy. I feel alive. Each airy touch wakes me further, and I am glad to sleep at night to digest it. And sometimes, when I wash the dishes, I only glance because I am already fully nourished.
That is the frisson of giddiness I felt.

Thank you for reading and for sharing this with friends.
Not getting weekly blog notifications? Email me with 'blog list' in the subject line:
dervish@dancemeditation.org