Building Ravenrock Autumn 2012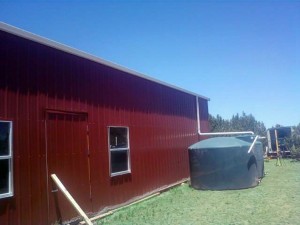 Where are We So Far?
Over the summer of 2012, with the help of the Dancemeditation Community's generous contributions of $17,000 gifted during last winter's exciting fundraiser, building on the Dance Barn interior progresses steadily.
 – Porch: The 15 X 24 foot porch is complete. It provided an excellent staging area for our August volunteer work weekend as well as a welcome place to rest and enjoy the spacious view of Hermit's Peak.
– Water Catchment: Two additional water collection tanks with a capacity of 3000 gallons were added to the east side of the barn. Now both sides of the roof are able to collect water. Papercrete uses a lot of water so the rain that falls is getting used readily. But we have plenty of water. The winter snow melt will top off all the tanks and give us 6000 gallons. (Northside catchment tanks pictured at above.)
– Summer Kitchen: Work on the adjacent Winter Room, also 15 X 24, is moving ahead quickly. The Winter Room is so named because it will be fully insulated, with water in and out, as well as propane cook stove and countertops. During retreat, it will serve as our Kitchen.
– Barn Interior: For the inside of the Barn we had two major goals, 1. Keep out uninvited animal life. and 2. Provide passive cooling against the strong desert sun. We are well on their way to completion! Inside the Barn, we now have the foundation perimeter walls dug down one foot and papercrete layers poured down and up to a height four feet. The foundation walls will discourage all burrowing animals. Papercreting the entire interior ensures that the inside will stay pleasantly cool. Papercrete has little mass, so unlike adobe, it simply blocks heat without absorbing it. It has a very high R-value (measurement of insulative value.)
What's Next?
Constructing with papercrete is gradual and very like many ancient cob wall techniques. A layer is made, let harden then the next layer is piled on top of it. Because our papercrete mixture is the consistency of oatmeal, a form is put up, the papercrete mixture dumped in with buckets, sits for three days to drain and set, then the form is moved up again. It takes several weeks for the papercrete to completely harden. More about papercrete.
Process & Choices
After working with papercrete in the wall forms, we decided against using it for the floor and will lay a wood floor instead. With that choice made, it has been clear that we will complete the walls (in order to be able to drive the mixer inside the Barn and as close to the forms as possible) then lay the floor.
In March, we are reaching for $20,000.  This will carry us over the building hump and get us to Ravenrock for next Summer Movement Monastery.


Dervish Dancemeditation™ is a program of the Dervish Society of America, a nonprofit 501-C3 organization. Your contribution is tax-deductible.