Just Another Woman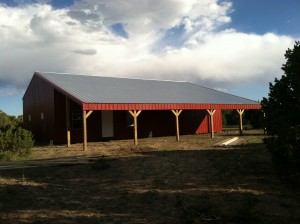 Dump Truck
A man drove a massive dump-truck up my tough road and emptied the contents behind the Barn. The gravel will form the foundation for papercrete walls as well as some mud zone walkways, a necessity in rainy season. As I watched the truck bed rear up and rain down stones, I could not have imagined myself doing this. It isn't that any person can't, in the middle of their life, move on to the next fascination or to the next level of their path's development, but this world of big vehicles and manual labor and power tools which I now inhabit is a very far cry from the delicacies of aesthetics and entertainment. It is so masculine. And I was so typically ornamental, ineffectual and feminine. This building is not, however, far from spiritual path which simply asks that we do what is in front of us with full attention.
Function vs. Beauty
Many days I reflect, with some small panic, on the enormity of the Ravenrock project. I am not turning it over to contractors to complete. I work side by side with Si every day, feeling the Barn develop the way one might work in a garden. Labor and growth. Feel the place take shape. Feel the way it will hold what has until now been abstract visioning. Visioning has to be done but I love far far more the doing. The screwing in, the hammer slam, the drag and grunt and shove and sweat dripping as flies hurry over to sip off my forehead. After, back at my cabin, I peel off my encrusted work clothes and rinse in the sun-heated shower before collapsing on my bed, knowing that I have finally done something basic—build. Build the sanctuary. How amazing to use my flesh for something so real and so functional. My sore body agrees. She is happy. She sleeps solidly. She wakes, full of herself.
Si told me the other evening that he really likes what I am doing here—working with him, not just telling him what I want and leaving. He thinks it is grand. It helps him love his job. I felt his respect and surprise. I almost blushed. I felt a little shy. I felt touched, almost cried. It was a much higher compliment than ones given me in my 'past life' by numerous men who thought my dancing and my body attractive. In those days, I was haunted by the sense of being embroiled in the standard trap—being beautiful for objectifying and avaricious eyes. I was staying in line and as long as I did stay in line I wasn't even visible, let alone appreciated. I was just another woman being beautiful for a man.
Well, as a builder I am such a bumbler. I don't know anything. My work is not terribly good. I look a fright. I'm in that crap zone between young (where you are always about to be the next Big Thing) and old (Still going? Well aren't you fabulous and non-threatening!) But I am willing to learn, willing…

Thank you for joining this great adventure and for sharing this with friends.
Not getting weekly blog notifications? Email me with 'blog list' in the subject line:
dervish@dancemeditation.org