Summer Doings at Ravenrock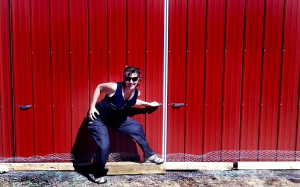 As I work on the physical plant at Ravenrock, I realize how the directive to use few machines changes the feeling of daily life. Machines are helpful but they have a strong energy and personality. Using very basic technologies is helping me feel less dependent and closer to the efforts and nature of my body. It is a strong learning. I wonder how comfortable I can be without fossil-fueled home life. There is no getting away from cars, at least not any time soon,  but refrigerators, lights, stoves, showers and toilets running and flushing, can all be reconsidered. We have gotten very used to a domestic environment that zings, gushes, and shushes around us. All these require massive amounts of fuel and for this we are cooking the earth. Ravenrock is, in part, an Etude on what it feels like to step away from machines and toward the elements.
Water Catchement:
The second water barrel catchment is in. This means that both sides of the barn roof collect whatever water falls. Last winter the snow fall harvest was about 2500 gallons. Putting in the gutters and downspout also mean that water from the roof won't be falling on the ground around the barn and possibly damaging the floor inside. Moisture is not  usually a big problem in the desert but this is just an additional plus to having catchment.
Water Purification:
For showering the rainwater as is will be fine, but for drinking purification has been the big question. I've decided to go with a Big Berkey. It can purify 3 gallons an hour so not a lot but enough to keep up with demand assuming that when groups are there, people are conscientious about filling the reservoir. Purification means both filtering the water of particles and purifying out the microorganisms. Berkeys made to perform in field conditions of stagnant water, stream, pond, muddy or possibly contaminated sources. It is worth considering these ideas for emergency situations wherever you are since you really can't live long without water.
Porch
The barn has a porch. I'll get new photos when its done and spruced up. But here it is in process, the framing completed. The porch is 25 x 15, a good spacious place to hang out. I worked on it until the heat got to bad. June is a tough month in NM and in these early stages, there is really nowhere to get out of the sun on hot days. The temperatures have dropped to beautiful summer temps now. So I'll be back at the building until Summer Movement Monastery.
Papercrete mixer
Si has completed the mixer. I can't wait to see it. Now begins the slog of finding paper, not as easy as it once was before recycling became a big business.
Si and I hope by the Work Weekend in late August that we will have a good grip on the papercrete formula for starting on the floor.  It seems that no one in the papercrete community has put down such a large papercrete floor, and even smaller floors require a different mixture than walls. Papercrete performs beautifully for non-weight bearing walls which we'll be doing a fair amount of. Floors are a different beast. Durability is the question. It may be that for the first few years we'll be on papercrete then lay a wood floor over it. We just have to get mixing and pouring to know.
Systems
It seems funny to call this next 'systems' since they are so low tech. I realize I am trying to construct Ravenrock infrastructure with as few machines as possible. Showers will be solar showers, of course. I am thinking about how to collect the gray water and use it to water gardens once they are in, but gray water can also be employed for Emily Cummings' clever non-electrically powered refrigerator.
Refrigeration
I love this brilliant idea by British engineering student, Emily Cummings.
It is a variation on the zeke. It uses sunlight and soaked sand or wool between tow layers of metal tubes. You put this in the sun, the sun evaporates the water, wicking it and the internal heat away from the inner cylinder. The contents of the inner cylinder stay cool. Ingenious! I'll build a prototype for my cabin of course. I have found that it is difficult in remote environments to live without refrigeration. Dry food, canned food are the norm of course but growing fresh food is crucial and that can happen next summer as well as being able to keep perishable food longer than one day.
Solar Cooking
There are a number of DYI passive solar cookers around and I even slow-cooked a stew by simply placing the stew pan inside a large black enamel pot and setting in the sun all afternoon effectively creating a low temp oven. The stew was fantastic! But here is the best-looking version I have come across. Elegant to behold and apparently capable of boiling water (key for my needs since I like my morning tea and want a Plan B in case the propane stove craps out). Parts list: cardboard, tin foil, glue, a mason jar, black paint, large heavy-weight plastic bag, a block of wood beneath it. Basic. Cheap. And it ends up looking like a an strange angel. Here it the Funnel Solar Oven by Steven E. Jones, professor of Physics, Brigham Young University.

Thank you for joining this great adventure and for sharing this with friends.
Not getting weekly blog notifications? Email me with 'blog list' in the subject line:
dervish@dancemeditation.org
If you'd like to Contribute to Ravenrock, it's easy! 

Click here

.