Dancemeditators Do Shafi Chant: Part 2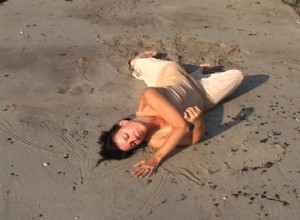 This past December, Dancemeditators worked together as a practice community in our individual locations with Shafi Chant. Shafi means "To Cure, to Heal."  (Click here for a full description of the practice we did.) Below are three moving practitioner accounts that came from their experience with the chant.
Practitioners Writings About Their Experience
Joanna Shellenberger, ITCert**
My day started with a cleaning of my space, which felt like a practice by itself. I also played the Muhyi chant as I was getting ready. I decided to do a fast as well. By 11am, I was ready to start my practice. As I was powering down my phone and computer, I decided to chant without the recording as it felt intuitive to not have any electronics going.
I had every intention of moving but as soon as I made it to the blanket I felt my body sink down and decided to go right into Shafi. At first I spoke the chant out loud but as tears came to me I had internalized it and focused on breathing thought it. An incredible sense of sadness and grief came over me, something I've been denying in myself. I had an image of light with millions of hands holding me, allowing me to be in this grief. I just stayed with it, chanting for about 45 minutes. Felt like I was both griever and healer with the help of practice and community. Felt very supported in the space. I wrote for a bit and then a 2 hour sufi sleep followed (much needed). Although this sounds really depressing, it is actually the healing that needs to take place and I'm glad to not tackle it alone. I love this practice because it challenges me more than anything else I can think of but also supports the process at the same time. My thoughts and writing felt therapeutic and not like spiraling downward.
My journal entry from the day:
Sadness — I've been avoiding this feeling, avoiding the grief. Searching for manic states to inject life into me and yet deny myself at the same time, my emotions.    I am not alone but sad, unsure. I miss my former life, but this place is gone, empty. I have more life here and now. Yet I feel empty here too, like a part of the past has been erased—Where did I go?
Who am I alone? I seek so much attention, confirmation. Yet, I need to be alone, more often.
Music is like a minefield of heartbreak. Any minute I could be subjected to a memory of then, to what was, to the pain of what is now gone. Maybe I am a minefield too. Where can I modulate this feeling (sadness/grief)? Where can I find a middle ground? Where can I find peace? Forgiveness is entering my heart and yet it hurts, still.
Sadness… this is what I'm running from, this is why I'm distracted, why I suppress and hold back. I am so afraid it will take over me like it has before but it needs to be expressed. The war is over yet why do I still fight to find love? It's here all along. It's here in me.
Teresa D Long Hawkes, CDMT* 
Sitting on the couch swaying, breathing, feeling the depth of Shafi melt my mind, I fell out of anxiety into a sensation of being rocked by the love of the Sufis emanating from within. I could feel them all. Deep gratitude washed through me. There is a well of peace waiting just inside me. I don't dip myself in its embrace often enough. Thank you for keeping us connected to this wellspring Dunya!

Carleen Bevans, IT Cert**
My time started out really stressed, I had spent all day in town getting my car fixed… $ 1450.00 later and too dark to go back up the mountain I grudgingly got a motel room. I was frustrated, angry and just a wee bit out of control.
I decided that it didn't matter that I would be doing my Shafi and Sufi practice in a motel room, not at all what I wanted but…. surrender has been something that I am practicing sooo… surrender I did. I turned the heat on in my room, got comfortable letting my body sink, sink into the bed, breathing slowly then adding 'sha' on the inhale 'fi' on the exhale slowly, gently surrendering to the letting go of all negative thoughts, seeing the good in what had been happening all day and before I knew it I was no longer tense, angry, frustrated and my room became the universe, I was floating amongst the stars. So peaceful, loving and just being. Amazing what a little surrender, breath and Shafi can do to end the angst.. Thanks to all of my Sufi Sisters for being out there I could feel the presence of much love and joy.
*CDMT Certified Dancemeditation Teacher
**ITCert Intensive Training Certifcation Program

Part 3 of this Shafi chant series will be here in two weeks. If you missed Part 1, click here. Thank you to the Dancemeditation Practice Group for permission to use their words.
Become part of our practice community by doing the practice and sharing your experience of your practice here on the blog.
And if you enjoy what you are reading,  please click the 'Follow' button. Posts will come to your inbox.