Thin Wiggly Strand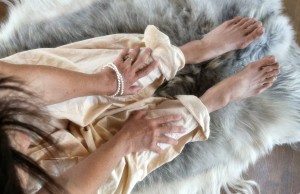 My dancing meditation or meditative dancing or meditation dance or Dancemeditation treats me like a bumpy hand-woven sweater. When seeing how well knit I've become, it grasps my ego's thread end and tugs. I unravel into a thin wiggly strand, drape over the world's edge then drop to a quiet little nowhere.
I think of Butoh dancer, Muteki-sha. She does one dance, 'Niwa ' (the Garden)—a single life-long project expressing the continuity of a dancer's life. She says, "Niwa is a forgotten garden, very tiny, very Japanese…I wanted to see my life from the perspective of a woman seated in a garden, watching it bloom and wither." That one statement sustains me. I am not alone.
I've danced through many agendas, some culturally dictated, others self-set: to be beautiful, noticed, loved, respected; to be acknowledged, expert. I've danced through the desire to be thin, agile, strong or sensuous and through wanting to be free of aches. I've danced to blot out emotional pain, to avoid anxiety, to face anxiety, to calm myself, to excite myself, to amuse or bemuse myself. I've worn through using dance to be free of identity and self. Now, when I fulfill an agenda, I'm no longer distressed. I simply continue to dance though my reasons no longer exist.