Spending My Spiritual Capital
In an earlier post I wrote about coming home from retreat and, with all that new juice, getting involved in lots of projects and using the energy lavishly though often unwisely. I remember those words as I return to NYC with recharged batteries, as if the New Mexico sun had charged my soul. I am aware that all the cleansing breaths I've taken on the mesa have been healing. The light has been healing. And my cells feel wonderful. Alive!
Back in NYC I focus on business. I sit in front of my computer and type away. I'm on the phone. I email. I organize Dancemeditation sessions and 'run the store'. But as I do, I feel what I am doing. Inside my apartment, I inhale EMFs. As I walk along the street, I inhale heavy metals. With every breath comes poison.
NYC is a stimulant — caffeine or speed. It's a great jolt, useful in creative tasks and for un-spooling complex ideas. The mesa is nourishment. Direct inspiration. I make the two sound very black and white. Who wouldn't prefer the mesa? But the mesa has its rigors. Its austerity is a large part of its ability to heal, and that must be gotten used to. New York is materially cushy. Lots of water. Lots of electricity. Anything you could possibly want — for a price.
The power of NYC for me has always been its raw energy. If I can transform it with my practice I have a dynamic resource, but I have to transform it, not get lost in it, or follow its whims and tides which easily chew up a soul.
I feel almost as if I need to get all my business work done quickly before I lose my juice. But then I realize that the healing that took place on the mesa is changing how I am working. I breathe as I type. I tend toward balance. I don't teeter on an edge. I am all here, and being all here is far less crazy, less volatile, less self- destructive than past ways I've lived in NYC.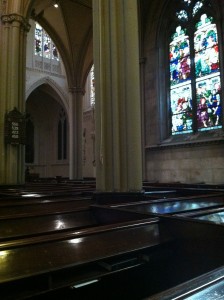 I stopped in at Grace Church on 10th and Broadway to listen to the noon organ concert. That was a nice break. The cool colored light. The smell of wooden pews and leather prayer books. Timelessness, to breathe and be bathed in music.