Remembrance
"There is a sickness worse than the risk of death and that's forgetting what should never be forgotten…" –Mary Oliver
I am working with a new chanting. New to me. Otherwise, old as time. Its not important that anyone know what the word is. It's a Sufi chant. Sufi chanting is called zhikr — remembrance.
My new chant surprises me because the part that is meaning — its literal translation — doesn't touch the fullness of the experience. This chant must be right for me since, as I do it, I cross a threshold into the place I never want to forget, a place where I feel completely human yet safe and real. Most ordinary days, human-ness is a long string of vigilance and fear. I'm familiar with all that, inured to it.  I seek the place where, like my time as an infant, I was held by my mother or father and they were vigilant for me. I was safe in their arms. They watched out for the wolf and bear, the snake and illness. Those killers. 'Being held' is a sweet flavor of giving up into the Moment. Yet the Moment requires surrender, letting yourself be held.
On the surface, the Moment could be any sort of temperature or condition; it could be painful, or it could be luscious. That, however, is just its surface. There is the inside of the Moment. The inside of the Moment is far more than being held and carried. It has a secret wisdom. (Not so secret if you get there but untouchable to most who stand on the outside of the glass window in life.) The importance of spiritual seeking is to find and touch, every day and in as many moments as possible, the inside of the Moment — not forgetting what should never be forgotten.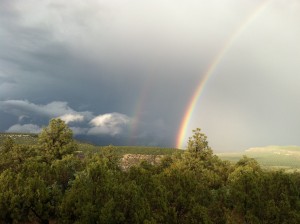 The inside of the Moment is a lamp in the dark, a vista that is boundless, is newness, is inspired existence, is non-separateness, is freedom, is spaciousness. It is soft like rabbit fur, and a perfect embrace. It is communion, knowing, contentment, and the end of bottomless want. It is the end of fear.