Morning Prayer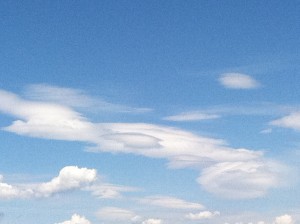 The morning wind blast from the NW. It is chilly for the first time so I'm in two polartechs and Don's huge sweatshirt, sitting on the sunny deck with my goatskin over me to drink my morning tea and write.
Before tea, I did my own ablutions and on Goat—that's the goatskin—my morning prayer. It was what I remembered of the Islamic prayer. I've forgotten some parts, but the bulk of it—the suras—are there. I felt such joy! This prayer is sincere so I'm sure its better than all the prayers I've slogged correctly through in the past in ritualistic resistance. This prayer brought love—like returning to an exquisite little garden, all the rose bushes and ivy gone wild, but looking richer and more beautiful than ever before. I recited Inshirah—Expansion—and my burdens lifted.
I feel supported and opened. Autumn wind lifts my hair, cools my brow, and says, "Your fever passes. Lean on me." Tawaakuul—Trust in the Divine. My mind willingly understands and trusts. My cells must practice. Cells are some kind of slow cooking grain—it takes time for them to simmer and swell with the Divine.