Comfort in Practice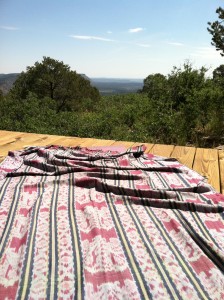 My night reading of Koran verses was surprisingly refreshing. I used to find them judgmental—all that 'do the right thing or be in hell'—but with a new perusing and the leavening of age and experience, that they are right.  They just are. The question is understanding what the 'right thing' is. Each sura drops a tiny clue in its bed of poetry to what a right thing is. Most of these clues point to finding and stepping onto the Path. This can be religion. This can also be Sufi. The Path means doing the practices. There is no Path without regular engagement in practices. None. Not for anyone of us. Practices, which constitute Path, are given, are learned, passed down, and proffered as solace for the pain of being human. They free us from the hell of personality—our own and others. All that 'patting on the head', competition, reaching for stardom—the fruitless ways we try to wring love out of the world.
The mesa naturally loves. Trees, air, rocks abundantly give. The sky is slow movement. The sky is slow movement. It takes only slowing and opening to receive.
Slowing and opening. Isn't that truly what most of our Sufi Dancemeditation practices turn toward? Time—Asr—comes then, sits inside us displaying the diamonds in her pouch. It doesn't require Ravenrock to receive this largesse, though Path will certainly accelerate here. No. Any small undisturbed room will do.
The words tumble out. Al hamdu lillah.
Breath sinks in. Al hamdu lillah.
What is Allah?
A word. A breath.
What is this Word? The Heart knows.
What is this breath? Life.