Rhythmic Breath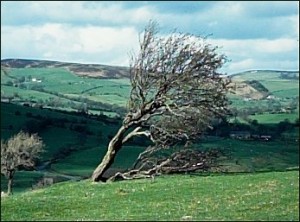 Practice: Rhythmic Breathing
Rhythmic Breathing tames straying, chaotic thinking, energizes your body, and evokes embodied present-ness. The breathing will be repetitive, shifting its pace and density as the body's levels of oxygen and carbon dioxide adjust. The lineaments of the movement generally have a strong repetitive element as well, which calms the nervous system and settles left brain dominance, though the movement can be non-repetitive.
Select rhythmic music. Drumming is always wonderful but choose one that isn't hectic. Human hands and arms  are better than the mechanical steadiness of electronic beat tracks.
Close your eyes. Bring attention to your breathing. Feel it come and go. Hear the rhythm and feel it seep into you.
Connect your breathing pace to a tempo in the music. It can be fast, medium, or slow.
Begin to move, letting your movement emerge from your breathing. Let this breath and motion rest fully on the rhythm. Don't force your body. Let the music carry the motion.
With the eyes closed, observe yourself as you move. As you continue, the pulse and breath will more fully direct your movement. Don't let the momentum of the movement distract you from breath & rhythm being in the forefront of your awareness.
Continue for at least 10 minutes; longer if you wish. Then relax your focus and let your body move however it feels for a while longer. Afterward, lie down and rest.
Rhythmic Breathing facilitates micromotion. In Spiritual Bellydance, Shimmy, or Vibration, is a micromotion; it is one very small motion done over and over quickly until it turns into a large idea of Vibration. Resting one's shimmy on a rhythmic breath pattern is dynamic and healing.