Perpetual Motion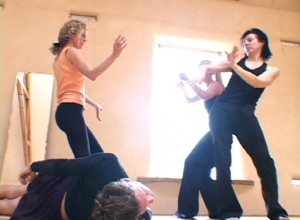 Practice: Perpetual Motion
Use any music that has a steady rhythm (different tempi are fine) without silences at a sustainable pace.
Keep moving as much of the entire body as possible for a minimum of 20 minutes. 40 minutes is best.
Though I generally begin with a sense of obligatory gloom, Perpetual Motion practice invariably morphs into fun once endorphins kick in. I need the purposeful parameter to simply get off the floor where I've blobbed down far too often, glazing off into dreamy stretching that is little better than a nap. Of course I love napping, but when stressed napping has become an escape rather than a healing. Opening the door of self-witness was something that I'd gotten out of practice with, not being able to tolerate much self-contact. Now that things have leveled out, I need to jump back inside. Perpetual Motion gets all my sleepy synapses popping, and my body wakes into her story.
In terms of combining this practice with Shadow & Light, I've found the right side of my body being very busy with space and time, very punchy, so Perpetual Motion suits the right side's process.